LIBROS Calendar
Programs run from August – June. There is no scheduled meeting in July.
We meet at Manzano Mesa Multi-Generational Center (see Meeting Location to the right for details).
For All Programs
Free Table: Anything art related that you would like to clean out and share with the club is always welcome.
Sale Table: We are starting a sale table available to members to sell small amounts of unwanted or used art supplies. This is not for finished art pieces, just an ongoing white elephant thing for those who may be cleaning out their studios year round. But please bring things in in small increments. We cannot accommodate a whole studio! 10% of sales shall be donated to LIBROS.
Show and Tell Table: We love to encourage sharing our current works. We have a talented group of people who work in all sorts of mediums that are pulled together in book or box form. Pieces don't have to be finished. You can also bring things in to discuss for help or inspiration. We will start this portion of the meeting early so make sure to show up on time!
Please feel free to email or call Mita with any questions,
Mita Saldana, 505-281-5737
CALENDAR 2022–2023
Check your Newsletter emails for details.
Saturday, June 3, 2023, 10:00 AM
Circle Book
with Micaela Seidel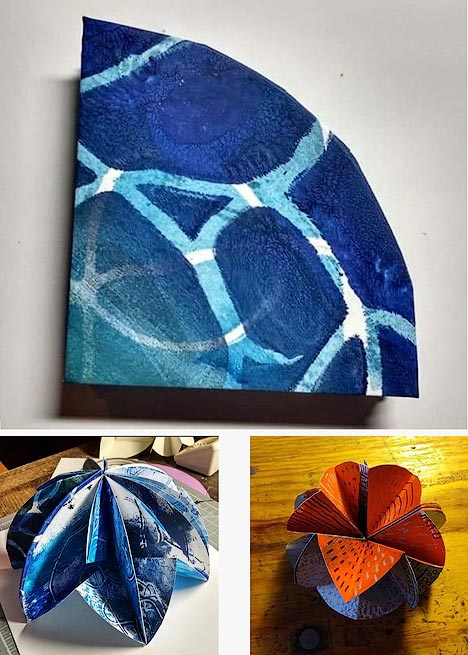 We will be making one book. A 6-sided foldable book which is 5.5" diameter.
OPTIONAL and RECOMMENDED: You can make the larger 6-sided 8" diameter circle book. You need 6 pieces 8" square paper decorated on both sides. Gelli-print or watercolor is great. Paper should be cardstock or mixed media weight. (mine is Canson mixed media 98 lb) Front and back should be contrasting or at least different. (you can decorate the back after, but it's harder.)
BIO: Micaela Seidel, grandmother, mother, sister, friend, and dyed-in-the-wool New Mexican. She has worked in the arts all her life, either creating, curating, or teaching art.
Please check your email for the Supply List and more information.
Location: St. Michaels & All Angels Church,
601 Montano NW (just west of 4th St.), Albuquerque, NM 87107
Google map
Check your email for more details.
2023 Upcoming LIBROS Events & Programs

July 1, 2023. No regular meeting.
Field trip to Gypsy Raven Studio/Gallery in Mountainair, NM. Details to come 
July 7–15, 2023, Tortuga Art Show.
The Libros/SF BAG Tortuga Gallery Show is open to Members in good standing. This is a collaborative show and any member from either group is encouraged to enter. Download Application Form PDF (REVISED version) for full details.
August 5, 2023. Ruth Anna Abigail, Intentional Creativity and Art Journals. Details to come.
September 2, 2023. Orizomegami paper dyeing or Momigomi with Karen Woolsey, . Details to come.
October 7, 2023. Junk Journal and Paper Making Workshop from Chauncy at we.grow.eco on from 10 a.m.–12:30 p.m.
Celebration of the Book – October 2023 to April 2024
The Santa Fe Book Arts Group will have several public exhibits during a six-month period to showcase the works of its members. Those scheduled to date include:
Santa Fe Main Library (October 2023)
Santa Fe Southside Library (October 2023)
Santa Fe LaFarge Library (October 2023)
Santa Fe Community College (March-April 2024)
During that period of time BAG will also hold a number of programs, workshops, and presentations. As part of the partnership agreement between BAG and LIBROS, LIBROS members have been invited to participate in these exhibits and events. More details and entry guidelines on the BAG website.