LIBROS Calendar
Programs run from August – June. There is no scheduled meeting in July.
We meet at Manzano Mesa Multi-Generational Center (see Meeting Location to the right for details).
For All Programs
Free Table: Anything art related that you would like to clean out and share with the club is always welcome.
Sale Table: We are starting a sale table available to members to sell small amounts of unwanted or used art supplies. This is not for finished art pieces, just an ongoing white elephant thing for those who may be cleaning out their studios year round. But please bring things in in small increments. We cannot accommodate a whole studio! 10% of sales shall be donated to LIBROS.
Show and Tell Table: We love to encourage sharing our current works. We have a talented group of people who work in all sorts of mediums that are pulled together in book or box form. Pieces don't have to be finished. You can also bring things in to discuss for help or inspiration. We will start this portion of the meeting at 9:15 am sharp so make sure to show up on time!
Please feel free to email or call Mita with any questions,
Mita Saldana, President. 505-281-5737
CALENDAR 2020–2021
Check your Newsletter emails for details.
Saturday, June 5, 2021
Mini Book Madness by Seth Apter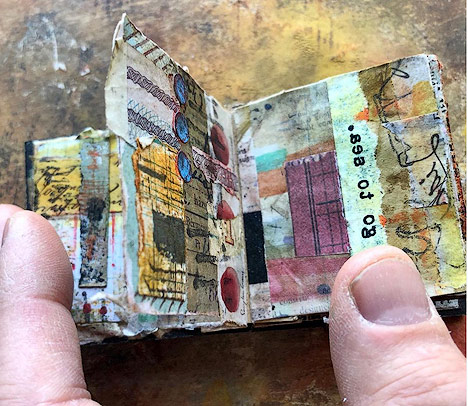 Join us for a one-session, 90-minute online class where we create a one-of-kind mini artist book. Measuring 2.5 x 2.5 inches when closed, we will build this book from scratch using basic materials and a no-sew binding. After learning the basic technique, you will be able to use it to easily create books of any size. Once our books are bound and our covers are covered, we will move to the inside where Seth will demonstrate his approach to abstract collage.
Given that the class is only 90-minutes, you will not have time to finish collaging all the pages in your book. But you will absolutely have time to complete the book structure, learn the collage techniques and start working on the pages. 
Check your email for supply list.
Seth Apter is a mixed media artist, instructor, author and designer from New York City. His artwork has been exhibited in multiple exhibitions and can be found in numerous books and national magazines. He has published two books, The Pulse of Mixed Media and The Mixed-Media Artist (North Light Media) along with multiple mixed-media workshop videos. Seth is an instructor at Pratt Institute in NYC and his live workshops have been held throughout the North America, Australia and Europe. With travel restricted due to the pandemic, he has transitioned to teaching onlinel. More info at: sethapter.com/
Saturday, July 10, 2021
Mixed Media with Sandra Duran Wilson
LIBROS Book Lending Library
Remember that we have books and DVDs to borrow at each meeting! If there is a particular book you'd like to borrow, please contact Glo Cantwell before the meeting (see sidebar to the right for details and a downloadable list by title and author).