LIBROS Calendar
Programs run from August – June. There is no scheduled meeting in July.
We meet at Manzano Mesa Multi-Generational Center (see Meeting Location to the right for details).
For All Programs
Free Table: Anything art related that you would like to clean out and share with the club is always welcome.
Sale Table: We are starting a sale table available to members to sell small amounts of unwanted or used art supplies. This is not for finished art pieces, just an ongoing white elephant thing for those who may be cleaning out their studios year round. But please bring things in in small increments. We cannot accommodate a whole studio! 10% of sales shall be donated to LIBROS.
Show and Tell Table: We love to encourage sharing our current works. We have a talented group of people who work in all sorts of mediums that are pulled together in book or box form. Pieces don't have to be finished. You can also bring things in to discuss for help or inspiration. We will start this portion of the meeting at 9:15 am sharp so make sure to show up on time!
Please feel free to email or call Mita with any questions,
Mita Saldana, President. 505-281-5737
CALENDAR 2019–2020
Saturday, November 2, 2019 (note time)
Center For The Book Tour at 10–11am * RSVP by 10/26
Tour the Center For the Book at the Special Collections Library
423 Central Ave. NE, Albuquerque, NM 87102.
Note special time: Tour #1, 10am – 11am (maximum 12)
Second tour possible from 11am –12pm if first tour is full.
RSVP by October 26th to Susan Clifford at (505) 321-8327, or email her at:
The Center for the Book is located in the Special Collections Library, a branch of the Public Library of Albuquerque and Bernalillo County. The Center teaches about the history of writing and books.
Here you can learn about the history of the written and printed word from hieroglyphics to those ancient artifacts we call typewriters. You can experience books in all their varieties, from antique editions to pop-up and miniature books.
The adjoining Press Room contains two replica and three antique presses, in addition to many examples of typeset and tools used in printing.

plus November 9 – Santa Fe BAG
Saturday, December 7, 2019, 9am–12noon
Xmas Party and Gift Exchange!
Also Star Book Ornaments by Esther Feske
Star Book Ornaments: We will make a few simple mapfold pages that make the most wonderful holiday ornaments.
plus Collaborative Presentation
Saturday, January 4, 2020, 9am–12noon
Collaborative Book Discussion and Two Sewn As One
by Terry Garrett
This nice sized book has two signatures, separated with a divider. This features a wrap-around cover that has a flap closure. This book makes for a great journal. Terry will demo how to create the book as well as have finished books for you to be inspired by.
plus Collaborative Presentation
Saturday, February 1, 2020
Paste Papers with Elizabeth McKee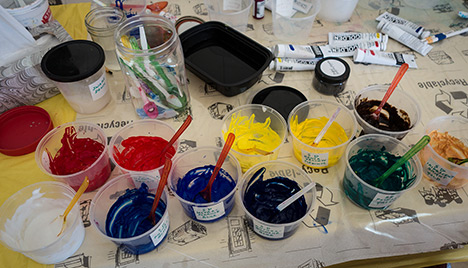 Elizabeth will show you the multiple layered paste paper approach to paste papers  and then you will have the opportunity to do one of the techniques yourself.
Saturday, March 7, 2020, 9am–12noon
Collaborative Assembly
We will assemble the annual collaborative book during this meeting.
Saturday, April 4, 2020, 9am–12noon
Carousel Book by Ruth Meredith
Learn how to create a modified Carousel Book. The pages are bound at the font edges of a folded two page 'spread' and these individual pages are assembled to create a simple form of 'pop-up- book.
Saturday, May 2, 2020, 9am–12noon
White Elephant Sale and Poetry Chapbook Production
Sell your unwanted/excess book arts supplies, art supplies, art books, tools or related items.
We will be helping to sew the poetry chapbooks produced by Escribiente and used as a fundraiser for the Open Space Alliance.
Saturday, June 6, 2020, 9am–12noon
Drawing & Demo by Susan Clifford
Presentation: Susan Clifford will bring a variety of her artwork for show and tell.
Demo: Are you hesitant to draw in your books? Learn simple drawing techniques to incorporate into your books
LIBROS Book Lending Library
Remember that we have books and DVDs to borrow at each meeting! If there is a particular book you'd like to borrow, please contact Glo Cantwell before the meeting (see sidebar to the right for details and a downloadable list by title and author).