LIBROS Past Programs Archive 2018–2019
Be sure to check the main Calendar page for upcoming programs.
Also follow us on Facebook!
June 1, 2019
Slideshow presentation by Elizabeth McKee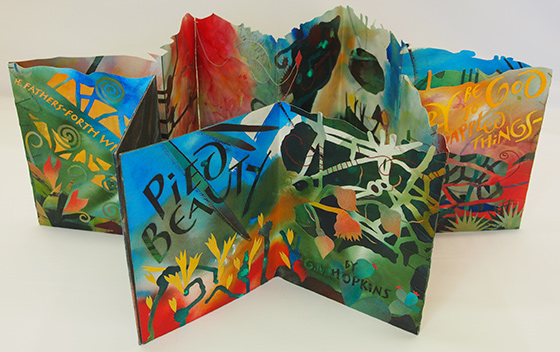 May 4, 2019
White Elephant Sale
Poetry Chapbook Production
Sell your unwanted/excess book arts supplies, art supplies, art books, tools or related items.
We will be helping to sew the poetry chapbooks produced by Escribiente Caligraphy Group and used as a fundraiser for the Open Space Alliance at their annual Poets' Picnic event (May 25, 2018).
April 6, 2019
Two Books Structures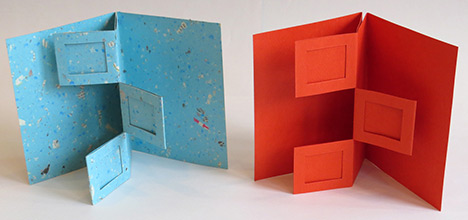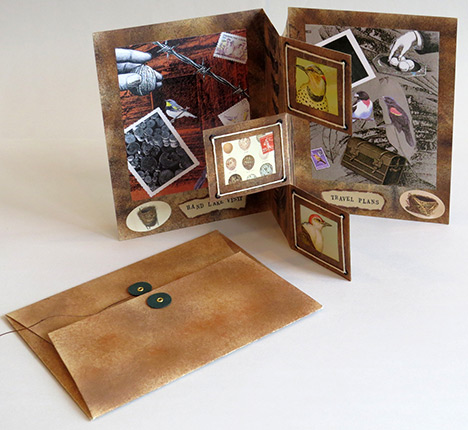 We will be making two books: The first is called the Portable Gallery (above), which is a variation on a Heidi Kyle book. By using the supplied envelope template, this portable gallery book can be mailed. You will be using plain paper for your first attempt. Once you make it, you can use it as a model to make others with decorated paper.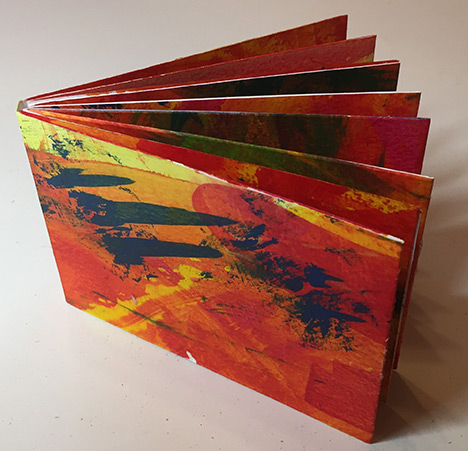 The second book is a folded book with a spine (above). It really does not have a special name; it was taught to Terry by his friend John Arbuckle, an amazing book artist from Seattle. You will paint the paper with acrylic, and Terry will demonstrate a technique using a credit card to spread the paint.
Material list to bring:
Your basic book making kit
bone folder
cutting mat
scissors
x-acto knife or break off blade knife
ruler (preferably 18 inch,but 12 inch ok)
old credit card (if available)
a glue stick or double stick tape
acrylic paint in colors you like (thinner cheap paint is great for this, so is that craft paint in the little bottles) – some will be supplied if you don't have any.
a couple of brushes and a water container
newspaper or plastic cloth to cover the tables
About your Instructor: Terry Garrett is a collage and book artist working often with his own monoprints, along with found images and ephemera. His collages are done on paper and in journals and artists' books, and often include imagery from the natural world. Terry's concern with the human impact on the natural environment is a frequent subject choice as is his exploration of the concept of home and story-telling. Terry has exhibited his collages and book work across the country. His work has appeared in seven books and several magazines, and is represented in private collections in the U.S. and abroad. Terry was an assistant professor in the visual arts department at Bemidji State University in Bemidji, Minnesota. Terry relocated to Albuquerque, New Mexico in June of 2018.
This program replaced one by Annie Hooten, which has been postponed.
March 2, 2019
Collaborative Book Assembly
We will assemble the annual collaborative book during this meeting.
February 2, 2019
Tour Jim and Alison Abraham's Press
On February 2nd Jimmy and Allison Abraham will be welcoming us for a tour and demonstration of Sawmill Press, located near the Harwood Art Center. In the first portion of the tour we will learn about the history of the press and about their favorite resources including books, printing websites and suppliers. We will get to see examples of Jimmy's work, Allison's work, projects from previous printing workshops, guest printers, and work from other presses. The second portion will be a tour of the studio. There will be an explanation of presses and equipment and a review of type and ornaments. Then the Abraham's will do a printing demonstration on the Vandercook. Also three of Jimmy's books/pamphlets of poetry will be for sale. This promises to be an intimate and in depth tour of a local private press.
Sawmill Press Bio
Sawmill Press (est. 2000) is the letterpress workshop of Allison and Jimmy Abraham in Albuquerque's Sawmill/Wells Park neighborhood.  Jimmy is a musician, song-writer and retired Spanish teacher.  Allison is a gardener, ensemble singer, tinsmith and retired architect.  They were born in other cities but were raised mostly in Albuquerque.  Both graduated from UNM and the Peace Corps.
Allison began learning the art of letterpress in 1997 with Kathy Kuehn at Salient Seedlings Press and they both later studied with Gordon Fluke at Santa Fe Community College.  Jimmy located presses, type and treasures when Kathy moved away and they wanted to keep printing.  Their 1890's Chandler and Price Gordon press and two cabinets of type (originally from the Roy Daily Record in northeastern New Mexico) were purchased from Jason Kilihan's Thistle Press in Santa Fe.  Pam Smith at the Palace of the Governors Press lined them up with their "Cadillac" press – a 1960's  Vandercook Universal I proofing press with a moveable bed.  All in all they have four presses, 15 cabinets of type and seemingly tons of paper and books on books in a purpose-built studio.
January 5, 2019
Zines with Esther Feske
Download PDF flyer that describes the 2019 Collaborative Book.
We are making zines! A 'zine (from "magazine") is a small-circulation self-published work of original or appropriated texts and images, reproduced via photocopier. Zines are made by a single person or a very small group, and are photocopied into physical prints for circulation. Some are serialized and have subscribers! Look up Zines on the internet for ideas.
December 1, 2018
Flag Books with Ginger Rice
Chrismas Party & Gift Exchange
Our next meeting has multiple parts. First is our annual Holiday Party and Gift Exchange. Bring some food to share and if you would like to participate in the gift exchange bring something book or art related in the $5–$10 range. This is a great opportunity to visit, get to know each other, and swap bookbinding stories from the trenches!
Second, Ginger Rice will also show us how to make a flag book as described in Alisa Golden's Creating Handmade Books. We will make a 4 1/4" x 5 1/2" book with 9 flags and a wrapped cover. Ginger will have all the paper cut and ready to go. Members should bring their basic tools for folding and gluing; double-sided tape might be easier.
We will also be introducing the Collaborative Book for this year. We have pushed the assembly month to March so we have extra time to work on things.
November 3, 2018
Text and Image Based Artists' Books Workshop
with Sabra Moore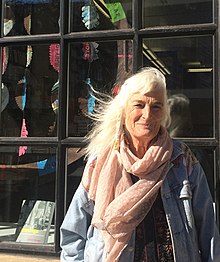 Sabra Moore will conduct a 3-hour workshop exploring the idea of making text and image based artists' books. Moore will first make a presentation of various artist's books, some multi-edition photocopier books and others unique hand-made books in various materials and formats. She will show both her own artists' books and a selection from other artists. Then she will lead a book-making workshop where participants can create a single book using a selection of materials that Moore will provide- paper, metal, wood, stamps, stencils, colored pencils, watercolors, paste, collage materials. Each participant will select a packet from a basket of word packets that Moore will bring. Each packet contains three words and participants will be asked to respond to at least one of those words to create a small book. Moore will demonstrate two or three simple book forms, such as an accordion folded book or a sewn book, and participants will create a book based on those ideas.
Sabra Moore is a Texas-born artist and writer living in Abiquiu, New Mexico. Her work is based on re-interpreting family, social, & natural history through the form of artist's books, sewn & painted "constructed" sculptures & wall works, and installations. She has exhibited extensively in New York City, Canada, Brazil and New Mexico. Her artist's books are in many museum collections, including the Brooklyn Museum and Museum of Modern Art (NYC).
October 6, 2018
Field Trip to Zimmerman Library Special Collections
Note 10am start time. Download UNM Campus MAP PDF.
Our October meeting will be held on Saturday October 6th, but please note we will be meeting at the Zimmerman Library on the UNM campus from 10am to 12 noon. 
We will be enjoying a peak at some of their artist book collection. This is a great opportunity to see the books up close, to see the workings and the materials used. Many of us like to meet at the Frontier Restaurant on Central and Cornell for breakfast at 9am and then we can walk over to the library. There is free parking behind the Frontier for about an hour, other than that there is a visitor parking garage (refer to map) just off of Central plus other metered parking throughout the campus.
September 1, 2018
Altered Books with Susan Weiss
Making an Altered Book with Esther Feske
We have two parts to our meeting this month:
Firstly we have Susan Weiss, a self-admitted "book nerd", her love for books developed into a quest to upcycle books that were destined for the trash or recycle bin so that they were still "alive" and could be enjoyed in a different form. Susan will share some of her altered books in person and also give us a talk and photo presentation about her work and process. 
And second up our own Esther Feske will show us…
THE SIMPLEST ALTERED BOOK: A RIBBON JOURNAL
We will be using the covers from an old book and attach in new sections, tying each in with a ribbon. Individual pages are removable to work on. Replace, add or subtract pages as you wish.
Participants should bring:
Bookbinding tool kit (see website for a nice list or contact Mita if you have any questions) 
A hardbound book cover you would like to use; you may select based on its size, its title, its thickness. The cover can later be altered and  decorated. If you do not know how to safely remove the bookblock from the cover, we will show you. (Note: Book covers with the spine glued directly to the pages, called  "perfect bound," will not work for this project. You must see space between the folded edge of the pages and the outer spine.)
PVA or favorite glue
Craft knife of your choice and cutting board
Non-stretchy yarn, colored cord, "binder twine", 1/8" fabric ribbon, or similar thick strong string, in a length at least 10 to 12 times the  height of the book. Or various strings can be used, each about 3 times the height of the cover to be used.
A variety of papers, folded once to make "folios." (Single pages will not work unless they are hinged to another page.) Not all pages in the  book have to be the same size. (Note: paper of extra width can be folded to make a flap or pocket.) Recycled artwork/prints/rejects make interesting pages. Or decorate/collage some pages ahead of time.
Esther will bring a few extra covers for those who may not have them.
August 4, 2018
Origami Envelope Book with a Sewn Cover
with Barbara Byers
We have been busy planning our upcoming year of programs and our first one is on August 4 at our normal meeting location (see top right).
We will be guided by co-member and book artist Barbara Byers in making an Origami Envelope Book with a Sewn Cover. This is a book made from separately folded pages that create pockets. These are then joined with linen thread and sewn into soft covers. No glue needed!
Please bring your basic bookbinding tool kit: pencil, eraser, bonefolder, awl, ruler, breakaway blade knife or exacto knife, scissors, cutting mat, bookbinding needles or tapestry needles # 1-5 or #18. If you have plain or colored linen thread please bring that also plus a decorative button for the cover.
Other News:
We need a volunteer to take over the position of Librarian. Glo has served in this position for at least 4 years and it's time to pass the torch. This is an easy way to help out the club. Talk to Ginger or Glo if you are interested.
We will also be talking about the State Fair and the list of upcoming programs will be announced!
This year we are bringing back the Free Table. Anything art related that you would like to clean out and share with the club is always welcome. I already have a nice little collection, mostly old books with really nice illustrations that can be used in all sorts of projects and a few other things.
We are also reintroducing the Show and Tell Table. We love to encourage sharing our current works. As stated before, we have a talented group of people who work in all sorts of mediums that are pulled together in book or box form. Pieces don't have to be finished. You can also bring things in to discuss a stuck point for help or inspiration. This process helps us all from working in a vacuum. We will start this portion of the meeting at 9:15 sharp so make sure to show up on time.
Please feel free to email or call me with any questions,
Mita Saldana, VP in charge of Programs. 505-281-5737
Note: Programs run from August – June. There is no regularly scheduled meeting in July.