LIBROS Past Programs Archive 2017–2018
Be sure to check the main Calendar page for upcoming programs.
Also follow us on Facebook!
June 2, 2018
Long Stitch Book
with Mita Saldana
Learn to make a non-adhesive book that has multiple signatures sewn directly through the cover, creating a pattern of colored thread across the outside of the spine. This book would make a great travel journal as it is soft bound and therefore very light. It also has the ability to lay flat when opened, which makes it easy to write in. For a lovely finishing touch the back cover wraps around and up over the front cover with a bead and thread closure.
All materials provided. Please bring your basic tool kit. (Bonefolder, awl, pencil, ruler, cutting mat, breakaway knife, scissors, needle.) Also bring a glue stick.
If you are missing something or if you are new and don't have your tool kit yet, Mita will have student tools for you to use. And many members are very sweet and will share tools too.
May 5, 2018
Our May meeting is a two-parter: A White Elephant Sale and the production work on a Poetry Chapbook which is a fundraiser for Open Space Alliance:
White Elephant Sale
First part of May meeting is our white elephant sale of your unwanted / excess book arts supplies, art supplies, art books, tools or related items. We suggest you donate 10% of your sales to Libros, more if you wish. Having items already priced will save time. You may bring things to give away if you wish. And bring lots of cash to take advantage of other peoples' white elephants!
Poetry Chapbook Production – with Dale Harris
Open Space Visitor Center, 6500 Coors Blvd. NW, Albuquerque, NM 87120
(505) 897-8831, https://www.cabq.gov/parksandrecreation/open-space
LIBROS book arts group is a community sponsor of the annual Poets' Picnic at the Open Space Visitor Center, along with Escribiente calligraphy society and the New Mexico State Poetry Society. Calligraphers will write haiku chosen from submissions by New Mexico poets on brown paper bag tags called Weathergrams for display on trees and bushes at the Open Space grounds.
Escribiente and LIBROS will make chapbooks of these Weathergram poems for sale, to benefit the Open Space Alliance, a volunteer organization which supports and promotes open space activities. The day includes calligraphy demonstrations, a haiku workshop and nature walk in the morning and an afternoon of music and poetry. Visitors are encouraged to bring their own picnic lunch while enjoying music and poetry outdoors. Free admission, open to all.
April 7, 2018
Chain Stitch on a Small Book
with Annie Hooten
We will be learning the chain stitch on a little book. If you are comfortable preparing the covers prior to class that would be a bonus, but if you prefer to cover them in class we can use the first part of the meeting for this.
Covers can be covered with decorative paper or you can use painted bookboard. If you wish a simple painted bookboard cover please do this prior to the meeting so that drying is complete.
Book covers should be small – 2" x 2" OR 2.5" x 2.5". Please do not make the covers any taller than 2.5" as we will only be doing two outside chains to keep it simple. I will bring samples of books with multiple chains but we will not do these in class.
Materials to bring
Book covers
Inside papers cut or torn to size so that when folded into signatures they are smaller than your covers (feel free to fold prior to class)
Piercing tool & cradle
Waxed linen thread and two needles (if you are comfortable with curved needles you may use these. I use straight ones and they work fine as well)
Optional – thin cord or ribbon to tie around the book
If you wish to cover your book covers in class you will need PVA, brush, bone folder.
March 3, 2018
Five Fast Books
with Esther Feske
Books that may be included are: 2-hole Japanese stitched, 2-hole with rubber band and stick, whirlwind, 1-sheet book w/ variations, envelope pocket book, uneven-page book.
The March Libros meeting program is Five Fast Books. These are really easy ways to make books that you will find very useful, because many variations on each theme are possible. Each book will take about 10 to 15 minutes to make. All materials will be provided. Bring your tool kit and, if you have one, a 2-hole punch such as used in offices. 
Follow-up instructions and assistance has been requested for those wanting to complete the Collaborative Book from the February meeting. There will be time, tools, and teachers to help anyone who got stuck or has questions. Bring your incomplete Collaborative Books and materials for same. Also bring finished books to show everyone! 
February 3, 2018
Collaborative Book
We will assemble the annual collaborative book during this meeting.
We will be sewing our Book Maker's Log. Even if you didn't sign-up for the collaborative you could bring your own text block to learn how to make a Sewn on Tapes Binding (bring  at least 20 sheets of paper 8 ½" by 11" grain short). LIBROS will be providing the cover boards for all participants.
January 6, 2018
Lost & Found Haiku
with Dale Harris
Create small books from recycled/up-cycled book pages where you have "discovered" small poems. We'll explore the fun of haiku and writing found poems.
Materials to bring:
books or magazines for cutting up (we'll have giveaway books for altering)
colored pencils, markers, optional glitter & paints for embellishment
decorative paper for covers
thread and bookbinders needle, scissors
awl, piercing cradle or phone book
glue stick
usual bookbinders kit
December 2, 2017
Xmas Party, Gift Exchange, and more!
November 4, 2017
Suminagashi Paper Marbling
with Ginger Rice
Originating in Japan as early as the 12th century, Suminagashi or "floating ink" is the process of marbling plain paper with water and ink to transform it into something vibrant and colorful. Ginger will demonstrate the technique for water marbling and then let members produce some examples themselves.
October 7, 2017
Artist Trading Cards
with Micaela Seidel
Artist Trading Cards never go out of style. Micaela Seidel will demonstrate a technique to create beautiful abstract backgrounds for your cards using watercolors and gel medium resist. The tutorial will also include the creation of a simple pocket accordion book to hold your cards.
"I have experimented with a zillion ways to make ATC cards and will show and tell some of those quickly and be available for questions. I will demonstrate a technique to create beautiful abstract backgrounds for your cards using watercolors and gel medium resist. We will also create a paper template for an accordion book wallet to hold 10 cards. Please bring your own cards to show off!"
For Accordion Book Template I will provide:
Strips of paper 5 inch by 36 inch
Strip of cardboard to reinforce the clasp
Buttons for clasp
Materials to bring:
(optional) Heavy paper strip 5 x 36 inch (If you would like to just make the book itself on that day please bring your own strip. You can join two pieces together if your paper is too short. The paper should be at least as heavy grocery bag or card stock weight.)
Ribbon or heavy thread for tie (appx10 inches)
Book-making kit
Watercolor or a water-soluble crayons such as NeoColor
Matte medium such as Mod Podge or better.
Small paint brush for paint
Small paint brush for resist
(Optional) oil pastels or child wax crayons
10 cards cut to standard 2.5 x 3.5 inch size (140# Watercolor paper)
You can get them off of one sheet of 8.5 x 11 paper if you cut like this!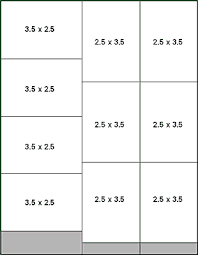 September 9, 2017
Backyard Papermaking
with Julie Reickert
This interactive, hands-on workshop will explore ways to make paper through recycling and using common plants, and with minimum equipment. Q&A welcome throughout.
Brief discussion of eastern and western papermaking techniques
How to make pulp from old paper, iris leaves, and corn husks
Demonstration of equipment: vats, mould & deckle, "felts," press
Participants pull and couch paper, press, set up to dry
Discussion of further options (cotton linters, kozo and more, pigments, sizing, etc.) plus resources.
August 5, 2017
Journey Through the Making of a Tunnel Book
Presentation by Pam MacKellar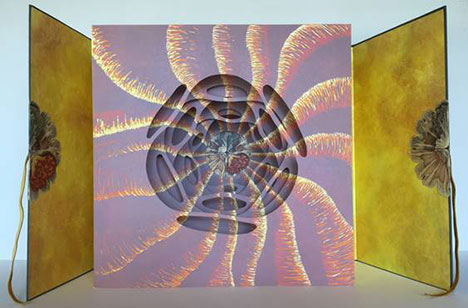 Pam MacKellar will explain her concepts and techniques for making her "journey" tunnel books. She will explain and show the reduction woodcut method she uses to produce multiple prints for the books, cutting out the tunnels, assembling the structure, and transferring the images.
Pam earned a BFA in Ceramics and exhibited her hand-built, one-of-a-kind, sculptural work in galleries and fine craft shows nationally. For 10 years she has been making artist books, and more recently prints. Pam has studied art at the State University of New York at New Paltz, Santa Fe Community College, Central New Mexico Community College, and the University of New Mexico. Her work has been exhibited in shows and galleries in the United States. She teaches book arts classes at the University of New Mexico Department of Continuing Education and offers workshops in her home studio in Corrales. You can see her work at www.pamonpaper.com.
To learn more about tunnel books, visit
wonderopolis.org/what-is-a-tunnel-book/