Welcome to LIBROS
LIBROS is New Mexico's Book Arts Guild offering a variety of inspiration for both traditional and experimental artist's books. We hold regular meetings on the 1st Saturday of the month, as well as annual and special exhibits.
We welcome new members and guests – please see our Calendar page a full list of upcoming meetings.
2023–2024 series of programs
Saturday, September 2, 2023 @ 9:00am –  noon
Orizomegami, Japanese Paper Dyeing
with Karen Woolsey
Note: Location returns to Manzano Mesa Center (address to the right) which requires $20 membership. Check your email newsletter for more details.
Orizomegami is an ancient Japanese paper craft that combines "origami' paper folding and colored pigment dip-dyeing. Similar in concept to Shibori dyeing, Orizomegami creates fun and vibrant patterns on paper, instead of fabric, through careful and strategic folding techniques but utilizes multiple colors. The advantage of using multiple colors is apparent when considering the endless kaleidoscope of possibilities in color combinations for each pattern explored. Dyed papers can be used as gift wrap, book covers, collage, tags, cardmaking, scrapbooking, etc. I'm sure many of you did this as children, and it's fun to revisit our childhood.
More details on our Calendar page....
2023 Upcoming LIBROS Events & Programs
Check your Newsletter email for more details.

September 2, 2023. Orizomegami paper dyeing or Momigomi with Karen Woolsey, . Details to come.
October 7, 2023. Junk Journal and Paper Making Workshop from Chauncy at we.grow.eco on from 10 a.m.–12:30 p.m.
Celebration of the Book – October 2023 to April 2024
The Santa Fe Book Arts Group will have several public exhibits during a six-month period to showcase the works of its members. Those scheduled to date include:
Santa Fe Main Library (October 2023)
Santa Fe Southside Library (October 2023)
Santa Fe LaFarge Library (October 2023)
Santa Fe Community College (March-April 2024)
During that period of time BAG will also hold a number of programs, workshops, and presentations. As part of the partnership agreement between BAG and LIBROS, LIBROS members have been invited to participate in these exhibits and events. More details and entry guidelines on the BAG website.
LIBROS Facebook Page
Please Like the LIBROS page on Facebook for upcoming news & events: Facebook/LIBROS New Mexico Book Arts Guild

* LOCATION *
LIBROS meets on the 1st Saturday from 9am to 12 noon (unless noted).
Social hour is from 9–10am, followed by our regular meeting, which begins at 10.
LOCATION as of AUGUST 2023:
Manzano Mesa Center
501 Elizabeth SE
Albuquerque, NM 87123
505-275-87123
[Google maps]
Members receive a detailed email Newsletter with upcoming programs, Zoom links, and materials required listings. So Join today!
Book Lending Library
Lists updated 9-2018.
Read more about the LIBROS Book Lending Library on our Calendar or Newsletter pages.
For Sale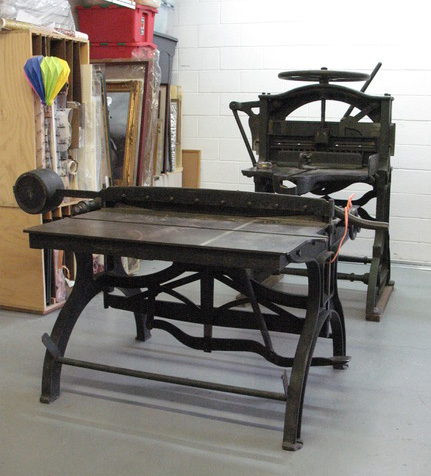 I acquired these machines in 2013 from the estate of Constance Sayre, a bookbinder who operated the Black Oak Bindery in Iowa City and later, in Socorro, New Mexico. I loaned them to paper artist Vicky Bolen, who used them in her "Little Bird de papel" studio in Albuquerque. Sadly, Vicky has died and her studio will be closed. I will need to find another place for them. I am offering them for sale at $2000 for the John Jaques & Son 45" metal bed board shear, and $800 for the Howard Ironworks guillotine paper cutter. I would also consider offers.
Contact: Jimmy Abraham 505 257-9177 (land line).
1109 Los Tomases NW
Albuquerque, NM 87102
Updated December 2015
Don't leave home without your bookbinding kit! Remember that many of our meetings are "hands-on" and the best way to learn new techniques is to try them yourself!