LIBROS Past Programs Archive 2016–2017
Be sure to check the main Calendar page for upcoming programs.
Also follow us on Facebook!
June 3, 2017
led by Esther Feske
(1) June 3 program: "Everything-but-the-kitchen-sink books" made by Glo Cantwell, Karen Woolsey, and Annie Hooten. Ideas, materials, attaching, conceptual processes. More ideas than you can shake a stick at! (To continue the cliches). IF you have odd materials you want to use, and don't know how, come get ideas. If you have materials you want to share, we always welcome new stuff to play with! Please come!
(2) No meeting on July 1 (Independence Day weekend). Our next meeting will be on August 5th (Topic TBA).
(3) And we need more volunteers for officer and chairs and committees to keep Libros running next year! What are you willing to do, what do you want to happen? Attendance has been down, so we need YOUR input as to what you want to have for programs and activities that interest you. Hint: those who attend get to decide, as in any organization. We have 2017-18 volunteers for Treasurer, State Fair chair, Library show chair, archivist. That means we need You to step up if we are to continue in any fashion. Please email or phone or text me if you are thinking about any position or committee.
May 6, 2017
led by Esther Feske
April 1, 2017
Field Trip to Zimmerman Library Special Collections
April 1st meeting (April Fool's Day) is a Field Trip to UNM's Zimmerman Library (in the middle of campus) Special Collections. We are scheduled for 10 a.m. to noon.
You are invited to a social gathering at 9 am that day at Frontier, farthest room, for chatting, breakfast burrito, coffee, cinnamon roll, or what you'd like.)
UNM parking in the on-campus ramp should be available on Saturday - kiosk payment by credit card, handicapped is free.
March 4, 2017
Mini-journal with Steampunk cover
Presented by Kate Padilla & Micaela Seidel
Learn how to construct a mini-journal with a steampunk art cover that can be used for many other projects, such as a photo album as Kate has done, or as an art Journal as Micaela plans for herself.
Steampunk is a style of design that combines historical elements, vintage fashion, and incorporates technology and aesthetic designs inspired by the 19th-century industrial revolution. Think Victorian plus Mechanical, Jules Verne, or Retro-futurism. There are various interpretations and methods for employing Steampunk art. An internet search for the word will give you lots of "eye candy" and ideas.
February 4, 2017
2017 Collaborative Book Assembly
Download PDF Guidelines.
The February meeting is dedicated to assembling our collaborative books! Even if you didn't sign up you can still come and help, volunteers are always appreciated. Book boards will be provided for the covers (you will supply the cover paper). The final number is 25 pages, which includes two books for the LIBROS library plus a gift for Toni's family.
January 7, 2017
Folded Books by Kim Zuidema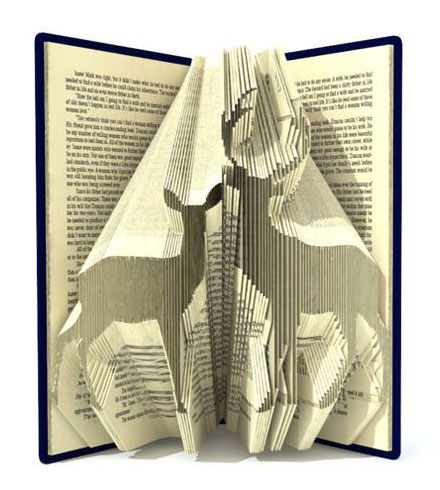 I have a simple system that uses computer generated templates and no math. That's right, no measuring and no counting pages!
At the January meeting I will show you how to create your own template using a simple line pattern and any design. I'll also show you how to fold simple patterns to create folded books that can be used for displaying photos or holding and sorting mail.
Everyone will be given one book with a pre-printed pattern.
All you need to bring is a metal ruler (preferably one that starts immediately at 0" with no margin).
These books are great to display or give as gifts!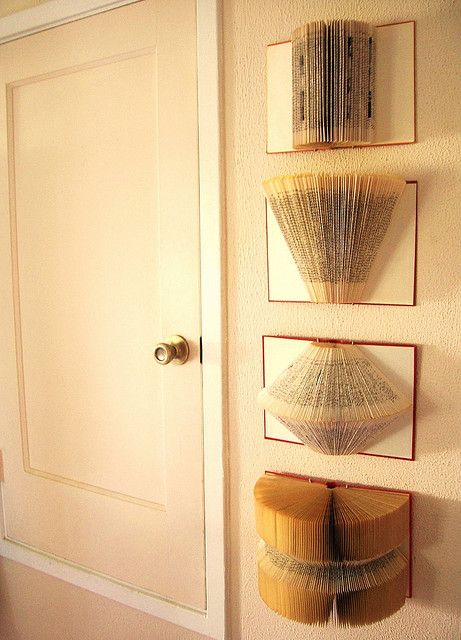 December 3, 2016
LIBROS Holiday Party
Another year has come and gone and it's time for our annual Holiday Party.
As usual we will have a potluck of light finger foods and snacks, a showing of our books we have made, a gift exchange and this year we will add a philanthropy.
Things to bring along to the party:
Your potluck dish and any utensils needed to serve it.
Your gift exchange if you choose to participate, under $10, wrapped and book related.
Any book-related donations for the give away.
In the past the LIBROS group made small books and donated them to the battered women's shelter. We would like to do something like this again.
Please if you have any scrap papers or cut ends, bring them along with buttons, beads and doo-dads for decorating small books. You will need a small kit and cutting mat to participate.
Glo is bringing paper for the covers. We can discuss while creating who we can donate them to. If anyone would like to bring crayons, pencils, craft items, etc. to donate as well that would be great. We hope to make about 20 small books.
November 5, 2016
Back to Basics, with Mita Saldana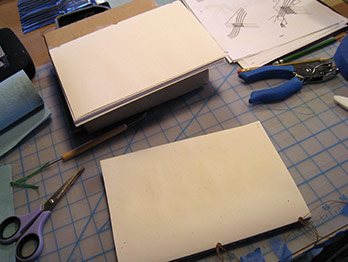 This will be great not only for beginners but it will also be a fantastic review for those who have been making books for awhile. Mita will be reviewing all of your basic information for making books including:
Basic Tools—bonefolders, paper knives, xacto knives, piercing troughs, needles, etc.
Advanced Tools such as a sewing frame, paring knives, the Scharfix
Materials—paper, threads, bookcloth, bookboard, super, mull, crash
Grain in your materials
Sources
This is a great time to brush up on your knowledge and basic techniques. And if anyone else would like to put in their knowledge about the above, if you have a favorite tool or source, please feel free to join in.
October 1, 2016
OFRENDAS, ALTARS, SHRINES
Looking forward to Dia de los Muertos / Day of the Dead, All Hallows Eve and All Saints Day at the end of October, our program will be about ofrendas ("offerings" for departed friends or family) and shrines and altars of all kinds. Shrines can be made using altered books, handmade boxes, cigar boxes, CD cases, mint tins, etc. Small books about the theme or person can be included. Please be aware that building an altar or shrine can take some time, some contemplation of the next step, adding and removing items, until you are satisfied.
September 3, 2016
Making a Necklace Journal
"BOOKLACE" presented by Gail Sakovitch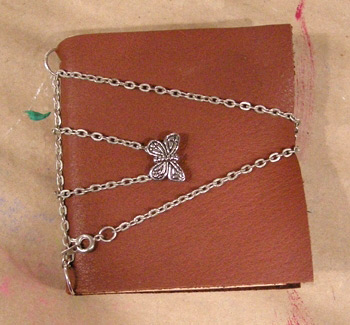 Download Materials List (PDF) for details. Advanced preparation required!
Also on the agenda: Election of officers for the 2016–17 year.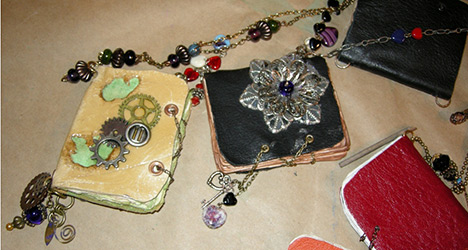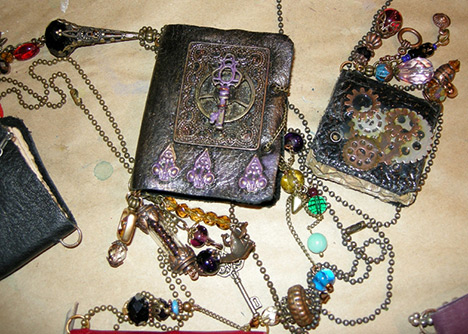 August 5, 2016
Accordian Fold Greeting Card with a Cover

LIBROS PROVIDES: long strip of paper for accordion, cover paper, written instructions with ideas for variations
TOOLS TO BRING:
X-Acto knife/ craft knife/ scalpel
Cutting mat (12" or less) or old magazine/catalog to cut on
12" ruler
Triangle if you have it
Bone folder
Pencil & eraser (white eraser works best)
Glue stick
November 5, 2016
Back to Basics, with Mita Saldana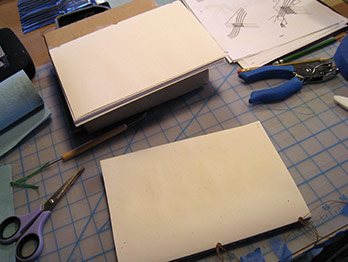 This was great not only for beginners but also be a fantastic review for those who have been making books for awhile. Mita reviewed all of your basic information for making books including:
Basic Tools—bonefolders, paper knives, xacto knives, piercing troughs, needles, etc.
Advanced Tools such as a sewing frame, paring knives, the Scharfix
Materials—paper, threads, bookcloth, bookboard, super, mull, crash
Grain in your materials
Sources