LIBROS Past Programs Archive 2015–2016
Be sure to check the main Calendar page for upcoming programs.
Also follow us on Facebook!

August 1, 2015
Program: "TWO-SIES!" with Dale Harris
Make two simple two-signature sewn books with folded paper covers. Download the PDF Materials List for details of how to prepare your papers in advance of the meeting.
Book #1
"Two Sewn as One" 2 sections pamphlet stitched through a center tab.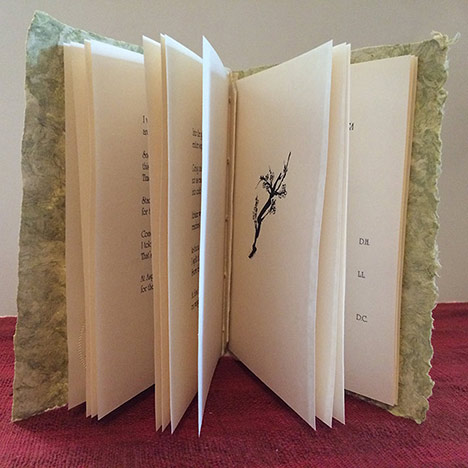 Book #2
"Dos-à-Dos" two books bound together back to front,  sharing a mountain-valley cover.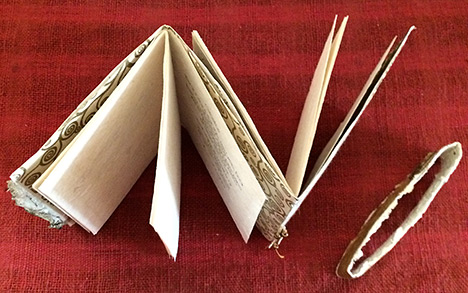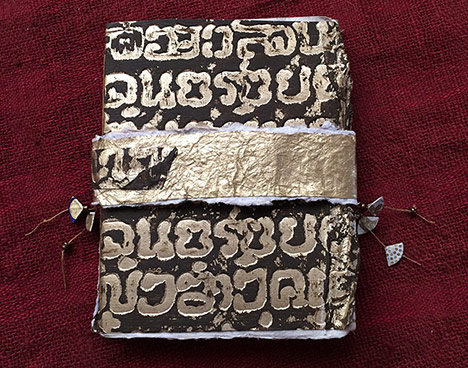 September 5, 2015
Program: Grungy Effects for Decorating Paper with Micaela Siedel
Download Handouts (PDF)
Micaela Seidel will present a demonstration featuring various techniques on how to create grungy surfaces on paper. We will work with inexpensive household products such as bleach, rubbing alcohol, and coffee grounds and prepare a sampler of decorative papers that can be referenced for use in journal pages or collage. Bring several small sheets of inexpensive medium weight (40 to 80 lb) watercolor paper, your bookbinding kit and a small bottle of gel medium (Mod Podge is okay though other brands are nicer to use. You should also bring a few buttons, beads, pieces of chain or interesting looking scraps that will be used in a bleach resist.
October 3, 2015
Program: Cuban Handmade Books by Vigía
with Barbara Byers & Margaret Randalls
Barbara Byers and her partner Margaret Randall will be speaking about the Cuban independent handmade book publisher, Vigía, showing examples of Vigía's books and detailing the publisher's history.
Download PDF: Cuban Book Art: Vigia Celebrates 30 Years
Vigía was started in 1985 by a group of young writers and artists who supported the Cuban revolution, but felt ostracized by certain repressive restrictions in place at the time. They proposed to make books with common materials that any Cuban might have access to: using butcher paper, bits of cloth, shells, and twigs, among other items. Their books are beautiful. Eventually the revolution recognized their work and gave them an old colonial house in their native city of Matanzas, an hour and a half from Havana.
Vigía books are now in important collections throughout the world. The collective celebrated its first thirty years with a 5-day festival that Barbara and Margaret attended. In addition to a short film on this magical publishing collective, they will be happy to field questions about Cuba itself at this moment of change.
November 7, 2015
Altered Book Techniques
with Esther Feske
How many ways can a book be altered? Esther will lead us in trying some easy-to-difficult ways to make old books (or even new, boring books) interesting.
Esther Feske will bring books she has altered and other members will have theirs to look at, and we will exchange lots of ideas... (I think we'll let people look at all the altered books on a table and they can ask questions of the artist, rather than have every artist speak, which could take a long time -- I hope there are that many altered books!) Esther will gather photos of altered books, and any books on altered books, to excite your imagination! A handout of ideas and tips will be provided.
And then each of us can begin to alter a book based on her own ideas. Do not expect to finish, as altering a book could take months, done a little at a time. That's OK-- it's really an exploration of ideas and techniques, as much about discovery as it is about a finished book.
What to bring in addition to your regular kit:
1. Any altered books you have done, to show
2. Any books you have started to alter and have not finished.
3. Books you want to alter.
Suggestions: children's board books, Readers Digest Condensed Books, outdated textbooks, outdated atlases or picture books on a theme that interests you.
** A box of free books will be provided if you need one!**
4. Glue--Elmer's, PVA type.
5. Notebook and pen, or camera, to capture ideas.
OPTIONAL -- if you have them:
6. Heavy duty utility knife -- one with break-off blades is best.
7. Cutting mat, small or medium size.
8. Japanese screw punch if you want to use that, or other ways to make holes in many pages.
OPTIONAL EMBELLISHMENTS / ENHANCEMENTS
9. Heavy yarn, cord, twine, as you like.
10. Collage images on a theme you like, including 3-D items.
11. Gesso.
12. Acrylic paints, inks (fingers or brush to apply them).
13. Rubber stamps and stamp pads (a selection, not everything you own).
14. Other favorite page-embellishing materials.
December 5, 2015 – 9am – noon
LIBROS Winter Celebration and Potluck
Manzano Mesa Multigenerational Center; new room – Social Hall
LIBROS members and guests – Please come to this special meeting to celebrate the winter season!
Special Book Presentation by Beth McKee
Acknowledgement of past President Mita Saldana
Collaborative Book presentation and sign-up
$10 Gift exchange (bookbinding theme) for those who wish to participate
Door prizes
Drawings
And more!
Coffee, cider, and settings provided; bring a potluck/goody item to share with the group if you wish!
As always we ask members to bring books and/or boxes, they are currently creating or have finished for a show and tell. Also bring your ATCs, mail art, and matchboxes!
January 2, 2016
Program: Oriental binding with Kate Padilla
(Location – new room: West Social Hall, at Manzano Mesa Center)
This beautiful binding is unusual and opens flat. We will make one signature version with instructions for multiple signature books. Our objective will be to complete a single signature book with a binding that allows the folded signatures to be sewn to a stub and backed by a conventional decorative paper or a mat board covering. This method also prevents adhesive from coming in contact with the signatures, and allows the pages to remain flat. This binding is also referred to as a "Stub Binding."
Book artist, Monique Lallier, explains the structure, as "a derivative of the traditional Japanese and Chinese binding techniques," which allows for books to be disassembled without damaging the text. New pages can be removed or added, as in an atlas.
What to Bring: Because the book requires cutting, folding, sewing, and gluing, members are asked to bring their bookbinding kit (PDF), which also includes the following: PVA glue, brush, water container, needle, thread (light weight book binding thread # 30 or other light-weight strong thread), bone folder, scalpel or an Xacto type craft knife, cutting mat, and awl or heavy T-pin for making holes.
Kits will be provided for first 30 members on a first come first served basis. Kits are for members only; however if there any extra kits guests may participate. Kits will include paper for 12 pages (8.5 by 5.5 inches), paper cut for the stub, card stock cover, a 3-hole jig, and instruction for the construction of one book.
For those of you that have made this book before, please feel free to bring your own materials to make a multi-signature book, however you will need to work independently as Kate's concentration will be on helping members make the single signature book.
Websites for those who later want to make a multiple-signature-book will also be included. For more information please contact Kate Padilla ).
February 6, 2016
2016 Collaborative Book
"Our Most Exquisite Transformation"
Led by Melinda Fay, Kent Swanson, Barbara Barnett
The 2016 Collaborative book is a cross between a corpse book and a body flip book. We will have great fun oohing and aahing over each other's pages and assembling a finished book. Sign up to make # pages to share with # people and learn a new binding technique. (Details are announced at our December 2014 meeting.)
March 5, 2016
Program: Fishbone Binding
with Beverly Wilson
Download Materials List PDF
A Hedi Kyle design variation of a one-page structure that can have a sculptural look, similar to accordion binding. Several variations – Fishbone, Tree, and Fibona – are possible and we will attempt as many as time permits.
April 2, 2016
Toggle Top Box Making
with Mita Saldana
Note: Meeting will run until 1:30 pm
Download Supply List – preparation required! (PDF)
Assemble a simple, yet elegant, square box. This box has a separate flat lid that has a toggle-type bead handle attached. This is a great beginner box. You will learn the details of how to measure for the board and cover materials, and how to cover the box in a precise way so that it will look neat and professional. Mita will pre-cut bookboard. Measurements for paper to cover the books will be provided two weeks before so you can have your paper ready for assembly.
May 7, 2016
LIBROS Flea Market!
May is a white elephant/ flea market by members and invited guests to buy and sell anything related to art. We arrive at 9am, and sale starts about 9:30am, so we can set up and look around first.
Our stipulation is that items must be art-related (no clothes and household goods unless you can make a book from them!). Don't forget to bring plenty of Mad Money – cash is certainly best, as most of us don't have access to using credit cards! We request that 10%, or more, of your proceeds be donated to LIBROS to support future programs.
Saturday, June 4, 2016(9am–noon)
Ruth Meredith Presentation
What Puts The 'Art' In An Artist Book?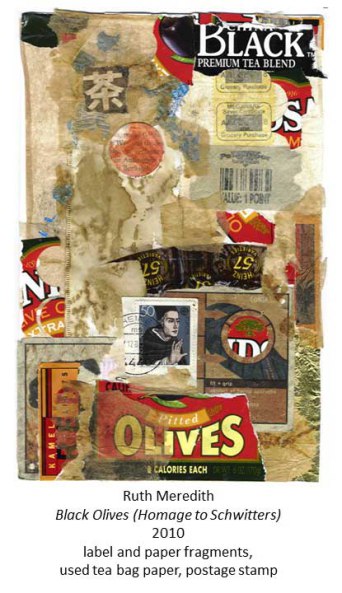 Ruth Meredith is a founding member of LIBROS and formerly adjunct faculty at UNM.
Ruth writes: "I want to do a show-and-tell program about some of my found object/assemblage books, because this kind of book provides a good way to think about the questions: What makes an object a book or what puts the 'ART' in an artist book? These books are clearly related to sculpture, so that should be an interesting way to deal with how to creatively integrate form and content or words and images which are two of my personal ways to think about answering these questions. I will talk about my strategy for creating these books, and how that approach is different from the more standard approach to creating artist books. Here's the link to my blog. Some of your members might find learning about my thinking process useful."
This meeting will be held in Room 3 (turn right upon entering building) at the Manzano Mesa Center (see above, right side for more directions).
Books from the Annual Member Show at the Library will ready for pick up at the June meeting. If you cannot attend the meeting please make arrangements to have your book(s) picked up.
The June meeting is the last LIBROS meeting of the season. There will not be a regularly scheduled meeting in July. The next season begins in August 2016.