Welcome to LIBROS
LIBROS is New Mexico's Book Arts Guild offering a variety of inspiration for both traditional and experimental artist's books. We hold regular meetings on the 1st Saturday of the month, as well as annual and special exhibits.
We welcome new members and guests – please see our Calendar page a full list of upcoming meetings.
2019–2020 series of programs
Saturday, November 2, 2019 (note time)
Center For The Book Tour at 10–11am * RSVP by 10/26
Tour the Center For the Book at the Special Collections Library
423 Central Ave. NE, Albuquerque, NM 87102.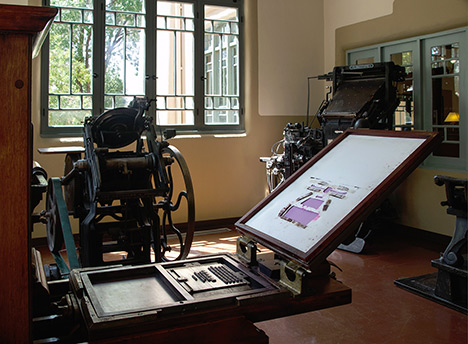 Note special time: Tour #1, 10am – 11am (maximum 12)
Second tour possible from 11am –12pm if first tour is full.
RSVP by October 26th to Susan Clifford at (505) 321-8327, or email her at:
The Center for the Book is located in the Special Collections Library, a branch of the Public Library of Albuquerque and Bernalillo County. The Center teaches about the history of writing and books.
Here you can learn about the history of the written and printed word from hieroglyphics to those ancient artifacts we call typewriters. You can experience books in all their varieties, from antique editions to pop-up and miniature books.
The adjoining Press Room contains two replica and three antique presses, in addition to many examples of typeset and tools used in printing.
Saturday, December 7, 2019, 9am–12noon
Xmas Party and Gift Exchange! Also Star Book Ornaments by Esther Feske
Star Book Ornaments: We will make a few simple mapfold pages that make the most wonderful holiday ornaments.
plus Collaborative Presentation
LIBROS Facebook Page
Please Like the LIBROS page on Facebook for upcoming news & events: Facebook/LIBROS New Mexico Book Arts Guild
Newsletter
Back Issues available on our Newsletter page.
Book Lending Library
Lists updated 9-2018.
Read more about the LIBROS Book Lending Library on our Calendar or Newsletter pages.
Updated December 2015
Don't leave home without your bookbinding kit! Remember that many of our meetings are "hands-on" and the best way to learn new techniques is to try them yourself!
Pay by PayPal/Credit Card
LIBROS accepts online payments for Membership through PayPal's secure online payment system. You do NOT need a PayPal account to pay by credit or debit card. Membership renewal is due by September of each year.