Welcome to LIBROS
LIBROS is New Mexico's Book Arts Guild offering a variety of inspiration for both traditional and experimental artist's books. We hold regular meetings on the 1st Saturday of the month, as well as annual and special exhibits.
We welcome new members and guests – please see our Calendar page a full list of upcoming meetings.
2019–2020 series of programs
2019 New Mexico State Fair
Entry Dates
Monday, August 19, 9am – 5pm
Tuesday, August 20, 9am–5pm
See our Exhibits page for more details.
Saturday, September 1, 2019, 9am–12noon
Modified Piano Hinge by Barbara Byers
This hands-on workshop is a dos por dos construction with a modified piano hinge binding.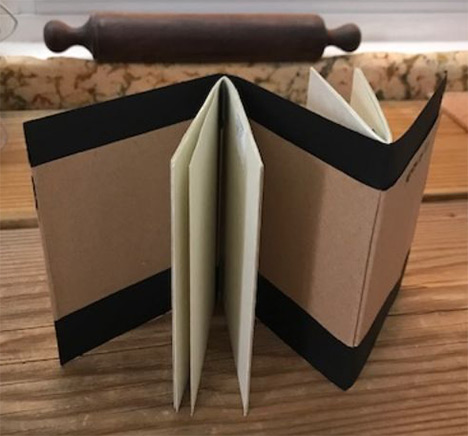 Mita Saldana, President of Libros, will kick-off September's meeting with a Basic Book Binding Tool Demonstration (about 15 minutes). If you are new to bookbinding or just not sure what tools you should invest in... this will be a not-to-miss demonstration.
In this month's presentation member Barbara Byers will guide us in making a Dos por Dos Modified Piano Hinge Book. Our model will be a dos-a-dos book with two single sections. More details and supply list...
Saturday, October 5, 2019, 9am–12noon
Top Hinge Book with Calligraphy by Ginger Rice
Where bookbinding and Calligraphy collide beautifully. Ginger will demonstrate how to make a simple top stitch book, after that she will guide you through inspirational Calligraphy techniques.
Saturday, November 2, 2019, 9am–12noon
Center For The Book Tour at 10am - Must RSVP
Tour the Center For the Book at the Special Collections LIbrary at 423 Central Ave. NE, ABQ NM 87102.
plus November 9 – Santa Fe BAG
Saturday, December 7, 2019, 9am–12noon
Xmas Party and Gift Exchange! Also Star Book Ornaments by Esther Feske
Star Book Ornaments: We will make a few simple mapfold pages that make the most wonderful holiday ornaments.
plus Collaborative Presentation
LIBROS Facebook Page
Please Like the LIBROS page on Facebook for upcoming news & events: Facebook/LIBROS New Mexico Book Arts Guild