LIBROS Past Programs Archive 2019–2020
Be sure to check the main Calendar page for upcoming programs.
Also follow us on Facebook!
June 13, 2020
Show and Tell
Mita & Annie will share some of the Journals they worked on.
Esther Feske will show her Miniature Book Collection.
May 9, 2020
Our May program was ONLINE as a virtual class!
Details are included in your May Newletter Email Blast.
Nicole White will show you how to make a simple book that is somewhere between a Junk Journal and an Art Journal. These techniques can also be used for Travel Journals, Memory Journals, Bullet Journals etc...
Click here to view this newsletter in your browser. Supply list included.
April 4, 2020
This meeting was cancelled due to Covid-19.
Watch your email newsletter for news about future programs...
March 7, 2020
Collaborative Assembly
We will assemble the annual collaborative book during this meeting. Please check the newsletter for full details.
February 1, 2020
Paste Papers with Elizabeth McKee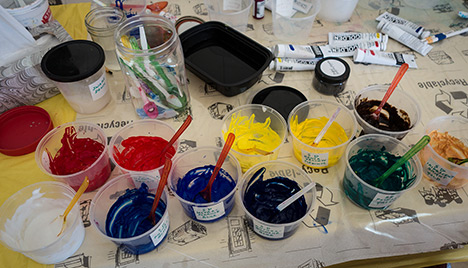 Elizabeth will show you the multiple layered paste paper approach to paste papers  and then you will have the opportunity to do one of the techniques yourself.
January 4, 2020
Collaborative Book Discussion and Two Sewn As One
by Terry Garrett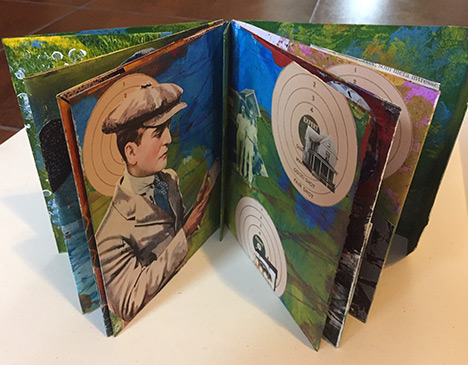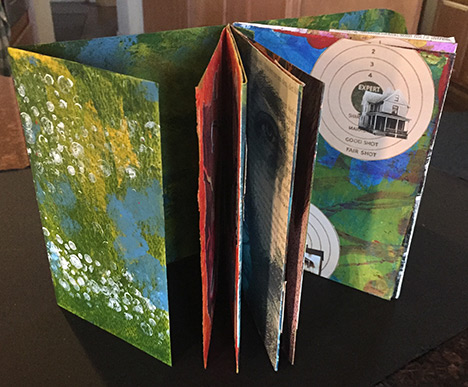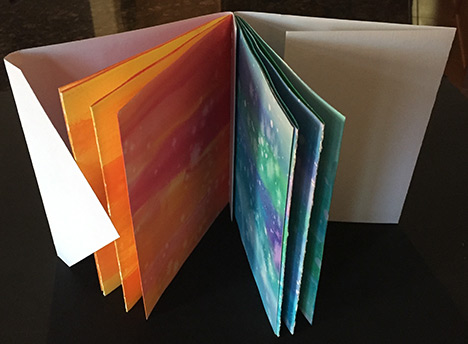 This nice sized book has two signatures, separated with a divider. This features a wrap-around cover that has a flap closure. This book makes for a great journal. Terry will demo how to create the book as well as have finished books for you to be inspired by.
We will also discuss the Collaborative book coming up in March 2020.
Bring a basic bookbinding kit!
X-acto knife
Cutting Mat
Awl
Needle & waxed linen thread
Scissors
Ruler
December 7, 2019
Annual Holiday Party & Gift Exchange*
Also Star Book Ornaments by Esther Feske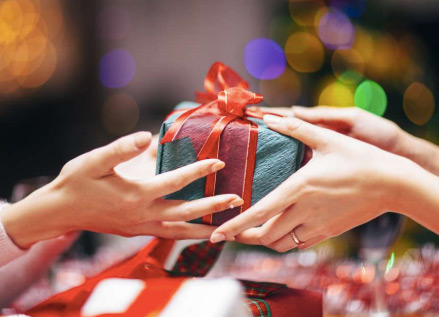 NEW LOCATION: Quality Suites, 1501 Gibson Blvd, ABQ 87106 [MAP]
(on the Corner of Gibson Blvd SE & University Blvd SE)
Someone will be in the lobby to guide you to the 3rd floor via elevator.
* Bring or make a gift for the gift exchange ($10 purchase value)
Bring food and/or drinks to share for our Potluck
Star Book Ornaments with Esther Feske:
We will make a few simple mapfold pages that make the most wonderful holiday ornaments.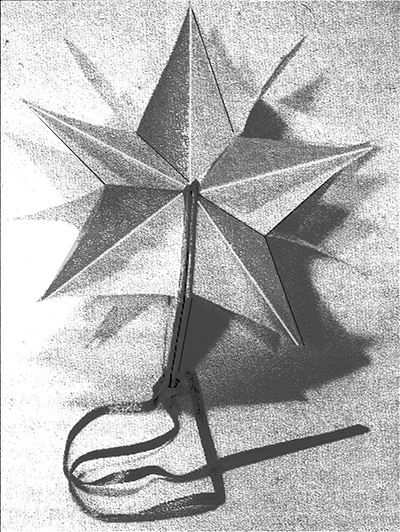 HOLIDAY STAR BOOK ORNAMENTS SUPPLY LIST
To be provided by LIBROS:
Printed instructions
3" squares of holiday-colors text-weight paper (mostly red, green, blue, printed one side)
1 ½" squares of holiday-colors cover paper for covers
Enough of both for each person to make about 4 ornaments (depending on attendance)
Please bring with you:
Glue Stick – good brand like Uhu or Elmers Craft Bond
Bone Folder
Scissors
Scrap paper to glue upon (phone book, catalog)
Quart Baggie to carry it all home
Method 1 binding:
Thin narrow ribbon (we will use 4 to 6 pieces about 16" long)
Method 2 binding:
Hole Punch (1/8" if you have it) and
4 to 6 ordinary wire paper clips (color ones are good)
Esther Feske got an early start in being an artist, thanks to her mother and aunt, both art teachers, and her inventive father. After earning a BA in art education, she attended the University of Iowa where she received MA and MFA degrees in graphic design and photography. In the pre-computer world, she was designer, proofreader, and editor of commercially-printed books for ten years and, with a computer, continues in this field. She has explored many media -- drawing, painting, sculpture, printmaking, collage, assemblage, and calligraphy. A bookbinding course from Mita Saldaña in 2001 sparked her passion for making handmade books, as they can include all her artistic interests. She is a four-time winner of "Best of Show" in bookbinding at the State Fair. She says that the good company of other artists is a special benefit of the several artist groups she attends.
2nd PRESENTATION: Secret Bonus Paper Thingy
Information and supplies provided at the Meeting/Holiday Party
We will also discuss the Collaborative book coming up in March 2020
Saturday, November 2, 2019
Center For The Book Tour
Tour the Center For the Book at the Special Collections Library
423 Central Ave. NE, Albuquerque, NM 87102.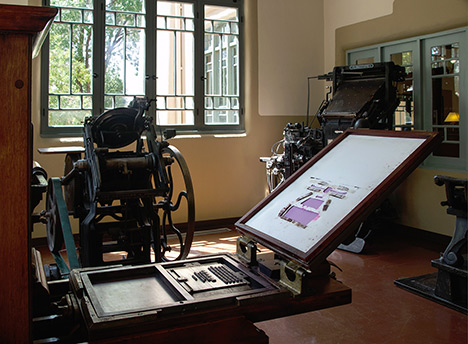 The Center for the Book is located in the Special Collections Library, a branch of the Public Library of Albuquerque and Bernalillo County. The Center teaches about the history of writing and books.
Here you can learn about the history of the written and printed word from hieroglyphics to those ancient artifacts we call typewriters. You can experience books in all their varieties, from antique editions to pop-up and miniature books.
The adjoining Press Room contains two replica and three antique presses, in addition to many examples of typeset and tools used in printing.
October 5, 2019
Top Hinge Book with Calligraphy by Ginger Rice
Where bookbinding and calligraphy collide beautifully.
Ginger will demonstrate how to make a simple top stitch book, after that she will guide you through inspirational Calligraphy techniques.
September 7, 2019
Dos por Dos Modified Piano Hinge Book
by Barbara Byers
Mita Saldana, President of Libros, will kick-off September's meeting with a Basic Book Binding Tool Demonstration (about 15 minutes). If you are new to bookbinding or just not sure what tools you should invest in... this will be a not-to-miss demonstration.
In this month's presentation member Barbara Byers will guide us in making a Dos por Dos Modified Piano Hinge Book. Our model will be a dos-a-dos book with two single sections.
Dos-a-dos, from the French for "back-to-back", is a binding structure in which two separate books (or sections in our case) are bound together such that the fore-edge of one is adjacent to the spine of the other, with a shared board or cover between them serving as the back cover of both. (Think zig-zag!) 
This structure requires no stitching, instead, the binding is held together with a slotted technique in place of thread. Little or no adhesive is required, which will make a lot of you happy!
Supply List

Bone Folder
Cork back Ruler
Piercing tool (also called a needle tool)
Scissors
Blade or Xacto Cutter
Pencil
Cutting Mat
Double face tape or PVA glue and glue brush
Bring paper that you like for your folio's (inside paper) cut to 5.5" x 8.5"
You can also fold 8.5" x 11" pieces of paper in half and cut along the fold
Cover stock will be supplied and cut to size
August 3, 2019
38 Books – A Presentation by Pamela Armas
Pamela will bring 38 books to show to the group which includes a large range of bookmaking and design techniques to inspire and delight you! Pamela will also discuss the cloth book exchanges she has organized for over 15 years.
Note: Programs run from August – June. There is no regularly scheduled meeting in July.