Vicki Bolen
February 6, 2023
It is with a sad and heavy heart to have to share with you that Vicki Bolen passed away the morning of February 6th, 2023. Vicki was one of the first people I met when I joined LIBROS so many years ago. She always brought thoughtful insight to our meetings as well as a joy of making art and sharing what she knew. I'm impressed that she embraced every moment with art and enthusiasm. One of the last times I saw her, she and Richard were celebrating his birthday by taking in a day at Meow Wolf.
I heard that Richard has decided to go to Vicki's studio each Saturday from about 11 until 4 to sell Vicki's art. He is doing this instead of looking for an exhibition space. I'm sure setting up a show at this time might be overwhelming for him. 
Thanks so much for the caring from LIBROS! – Michal Sommers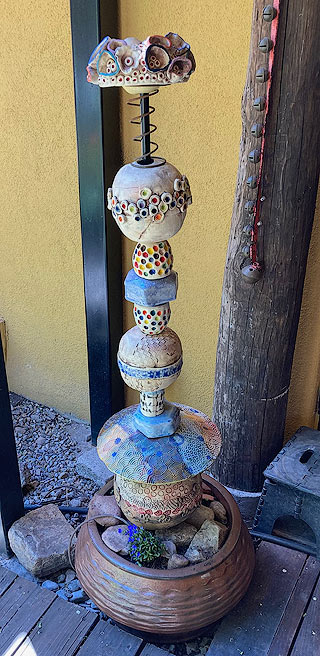 My husband and I spent about an hour on this totem (see photo) the afternoon of our 50th wedding anniversary selecting the pieces to go on the pole that Vicki supplied. It always brings me joy to see it. – Elizabeth McKee
 
Vicki was well known and appreciated, not only for being amazingly prolific, but also for collaborating with many others in projects and in her gallery. She was early in now-nationwide "Bowls" projects (by various arts groups to feed the hungry); she invited artists to make soup bowls, fired them, then sold them at a soup event to raise money for a local provider. Her generosity contributed greatly to the ABQ arts community being inclusive and supportive of individuals, studios, small galleries, rather than being competitive and selfish, as I'm sure some communities are.
On a personal level, she courageously and gracefully "lived with" cancer for many years. "Lived with," she said, not stopped by or suffering from. She kept going, didn't even talk about it much. She told me about the most recent occurrence when I went over by chance, but said she was not telling a lot of people. It was likely an old story, to her. And she looked tired.
My respect for her grew, the longer I knew her. We have been blessed by her being among us. – Esther Feske