LIBROS Past Programs Archive 2017–2018
Be sure to check the main Calendar page for upcoming programs. Don't miss out on LIBROS events - if you are a current member, be sure ot join our Yahoo Group (details on our Join LIBROS page).
Also follow us on Facebook!
Saturday, February 3, 2018 (9am–noon)
Collaborative Book
We will assemble the annual collaborative book during this meeting.
We will be sewing our Book Maker's Log. Even if you didn't sign-up for the collaborative you could bring your own text block to learn how to make a Sewn on Tapes Binding (bring  at least 20 sheets of paper 8 ½" by 11" grain short). LIBROS will be providing the cover boards for all participants. The rest of your supply list is posted on our Yahoo member site (or email Mita or Esther if you don't have access).
Saturday, January 6, 2018 (9am–noon)
Lost & Found Haiku
with Dale Harris
Create small books from recycled/up-cycled book pages where you have "discovered" small poems. We'll explore the fun of haiku and writing found poems.
Materials to bring:
books or magazines for cutting up (we'll have giveaway books for altering)
colored pencils, markers, optional glitter & paints for embellishment
decorative paper for covers
thread and bookbinders needle, scissors
awl, piercing cradle or phone book
glue stick
usual bookbinders kit
Saturday, December 2, 2017 (9am–noon)
Xmas Party, Gift Exchange, and more!
Saturday, November 4, 2017 (9am–noon)
Suminagashi Paper Marbling
with Ginger Rice
Originating in Japan as early as the 12th century, Suminagashi or "floating ink" is the process of marbling plain paper with water and ink to transform it into something vibrant and colorful. Ginger will demonstrate the technique for water marbling and then let members produce some examples themselves.
Saturday, October 7, 2017 (9am–noon)
Artist Trading Cards
with Micaela Seidel
Artist Trading Cards never go out of style. Micaela Seidel will demonstrate a technique to create beautiful abstract backgrounds for your cards using watercolors and gel medium resist. The tutorial will also include the creation of a simple pocket accordion book to hold your cards.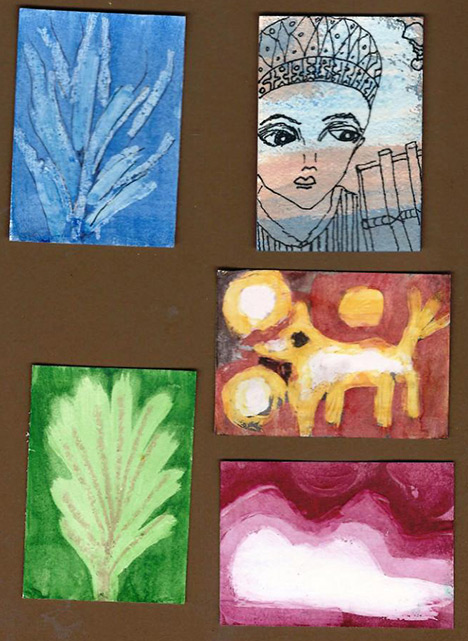 "I have experimented with a zillion ways to make ATC cards and will show and tell some of those quickly and be available for questions. I will demonstrate a technique to create beautiful abstract backgrounds for your cards using watercolors and gel medium resist. We will also create a paper template for an accordion book wallet to hold 10 cards. Please bring your own cards to show off!"
For Accordion Book Template I will provide:
Strips of paper 5 inch by 36 inch
Strip of cardboard to reinforce the clasp
Buttons for clasp
Materials to bring:
(optional) Heavy paper strip 5 x 36 inch (If you would like to just make the book itself on that day please bring your own strip. You can join two pieces together if your paper is too short. The paper should be at least as heavy grocery bag or card stock weight.)
Ribbon or heavy thread for tie (appx10 inches)
Book-making kit
Watercolor or a water-soluble crayons such as NeoColor
Matte medium such as Mod Podge or better.
Small paint brush for paint
Small paint brush for resist
(Optional) oil pastels or child wax crayons
10 cards cut to standard 2.5 x 3.5 inch size (140# Watercolor paper)
You can get them off of one sheet of 8.5 x 11 paper if you cut like this!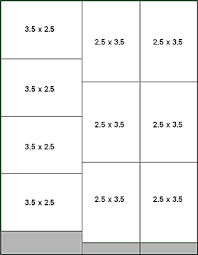 Saturday, September 9, 2017 (9am–noon)
Backyard Papermaking
with Julie Reickert
This interactive, hands-on workshop will explore ways to make paper through recycling and using common plants, and with minimum equipment. Q&A welcome throughout.
Brief discussion of eastern and western papermaking techniques
How to make pulp from old paper, iris leaves, and corn husks
Demonstration of equipment: vats, mould & deckle, "felts," press
Participants pull and couch paper, press, set up to dry
Discussion of further options (cotton linters, kozo and more, pigments, sizing, etc.) plus resources.
Saturday, August 5, 2017 (9am–noon)
Journey Through the Making of a Tunnel Book
Presentation by Pam MacKellar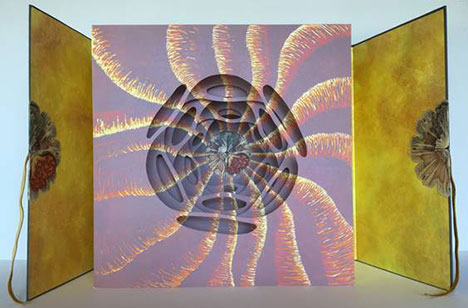 Pam MacKellar will explain her concepts and techniques for making her "journey" tunnel books. She will explain and show the reduction woodcut method she uses to produce multiple prints for the books, cutting out the tunnels, assembling the structure, and transferring the images.
Pam earned a BFA in Ceramics and exhibited her hand-built, one-of-a-kind, sculptural work in galleries and fine craft shows nationally. For 10 years she has been making artist books, and more recently prints. Pam has studied art at the State University of New York at New Paltz, Santa Fe Community College, Central New Mexico Community College, and the University of New Mexico. Her work has been exhibited in shows and galleries in the United States. She teaches book arts classes at the University of New Mexico Department of Continuing Education and offers workshops in her home studio in Corrales. You can see her work at www.pamonpaper.com.
To learn more about tunnel books, visit
wonderopolis.org/what-is-a-tunnel-book/
Please bring any tunnel books that you have made to share and discuss. We will also quickly discuss the upcoming State Fair. We meet at Monzano Mesa Multi-Generational Center, 501 Elizabeth SE, from 9–12.
Note: Programs run from August – June. There is no regularly scheduled meeting in July.