LIBROS Calendar
Be sure to mark your calendars for upcoming programs.
Saturday, August 5, 2017 (9am–noon)
Journey Through the Making of a Tunnel Book
Presentation by Pam MacKellar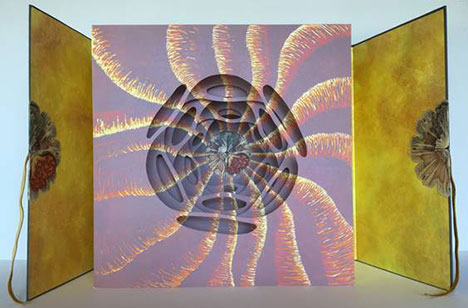 Pam MacKellar will explain her concepts and techniques for making her "journey" tunnel books. She will explain and show the reduction woodcut method she uses to produce multiple prints for the books, cutting out the tunnels, assembling the structure, and transferring the images.
Pam earned a BFA in Ceramics and exhibited her hand-built, one-of-a-kind, sculptural work in galleries and fine craft shows nationally. For 10 years she has been making artist books, and more recently prints. Pam has studied art at the State University of New York at New Paltz, Santa Fe Community College, Central New Mexico Community College, and the University of New Mexico. Her work has been exhibited in shows and galleries in the United States. She teaches book arts classes at the University of New Mexico Department of Continuing Education and offers workshops in her home studio in Corrales. You can see her work at www.pamonpaper.com.
To learn more about tunnel books, visit
wonderopolis.org/what-is-a-tunnel-book/
Please bring any tunnel books that you have made to share and discuss. We will also quickly discuss the upcoming State Fair. We meet at Monzano Mesa Multi-Generational Center, 501 Elizabeth SE, from 9–12.

LIBROS Book Lending Library
Remember that we have books and DVDs to borrow at each meeting! If there is a particular book you'd like to borrow, please contact Glo Cantwell before the meeting (see sidebar to the right for details and a downloadable list by title and author).
Meeting Location
LIBROS meets at the Manzano Mesa Center on the 1st Saturday from 9am to 12 noon (unless noted). Note that we are now meeting at the West Social Hall until further notice.
The Center is located at:
501 Elizabeth SE
Albuquerque, NM 87123
505-275-87123
[Google maps]
Updated December 2015
Don't leave home without your bookbinding kit! Remember that many of our meetings are "hands-on" and the best way to learn new techniques is to try them yourself!
Just Do It and Exchanges
This year, LIBROS is offering a number of "Just Do It" special interest groups for members only. Groups will meet outside of the regular monthly LIBROS meetings to give members an opportunity to explore book structures, content, box making, and more. Each group will decide how often and where to meet.
In the past, LIBROS has held monthly exchanges of Matchbox books and ATC card exchanges. In addition, we will add a Mail Art exchange. Members can participate as often as they choose.
Book Lending Library
(List Updated October 2015)
We have a collection of over 100 books, magazines, collaborative books, CDs, and DVDs for loan! There's a wealth of information just waiting for you to use. I will have a few varied titles at each meeting for you to peruse and/or borrow. I will need your name and phone number on the card that is in the item you wish to use. The charge will be $1.00 a month (payable upon check out) for ONE month. If you wish to keep your book another month, there will be an additional charge of $1.00, but you must return it by the time that month is over, or 2 months maximum in your hands. This is in consideration of your fellow LIBROS members.
When you peruse the list, you'll be amazed at the breadth of the Bookbinding/Book Arts information available to you! If you have books about which you are passionate, let me know the titles so we might be able to add them to our library. Your rental fees go toward acquisition. If you have suggestions or questions about the Library, please contact me at – Glo Cantwell