LIBROS Calendar
Programs run from August – June. There is no scheduled meeting in July.
We meet at Manzano Mesa Multi-Generational Center (see Meeting Location to the right for details).
2018–2019 Programs
Free Table: Anything art related that you would like to clean out and share with the club is always welcome.
Show and Tell Table: We love to encourage sharing our current works. We have a talented group of people who work in all sorts of mediums that are pulled together in book or box form. Pieces don't have to be finished. You can also bring things in to discuss for help or inspiration. We will start this portion of the meeting at 9:15 am sharp so make sure to show up on time!
Please feel free to email or call Mita with any questions,
Mita Saldana, VP in charge of Programs. 505-281-5737
CALENDAR
Saturday, April 6, 2019 (9am–noon)
Two Books Structures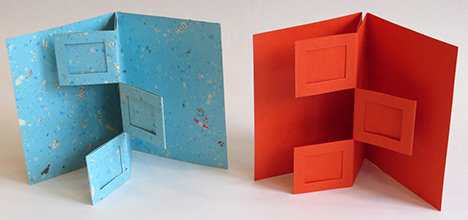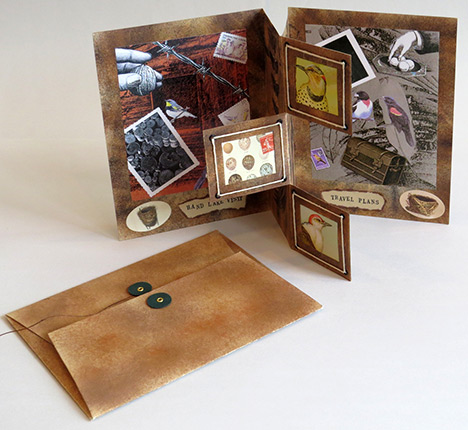 We will be making two books: The first is called the Portable Gallery (above), which is a variation on a Heidi Kyle book. By using the supplied envelope template, this portable gallery book can be mailed. You will be using plain paper for your first attempt. Once you make it, you can use it as a model to make others with decorated paper.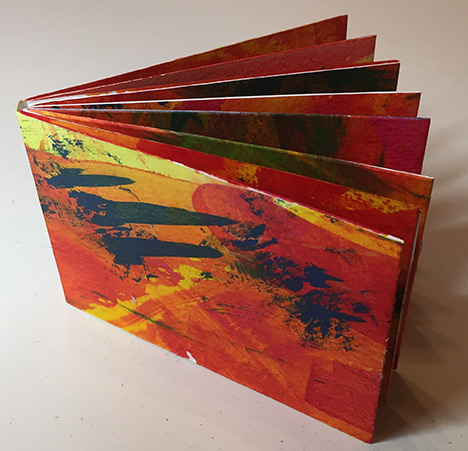 The second book is a folded book with a spine (above). It really does not have a special name; it was taught to Terry by his friend John Arbuckle, an amazing book artist from Seattle. You will paint the paper with acrylic, and Terry will demonstrate a technique using a credit card to spread the paint.
Material list to bring:
Your basic book making kit
bone folder
cutting mat
scissors
x-acto knife or break off blade knife
ruler (preferably 18 inch,but 12 inch ok)
old credit card (if available)
a glue stick or double stick tape
acrylic paint in colors you like (thinner cheap paint is great for this, so is that craft paint in the little bottles) – some will be supplied if you don't have any.
a couple of brushes and a water container
newspaper or plastic cloth to cover the tables
About your Instructor: Terry Garrett is a collage and book artist working often with his own monoprints, along with found images and ephemera. His collages are done on paper and in journals and artists' books, and often include imagery from the natural world. Terry's concern with the human impact on the natural environment is a frequent subject choice as is his exploration of the concept of home and story-telling. Terry has exhibited his collages and book work across the country. His work has appeared in seven books and several magazines, and is represented in private collections in the U.S. and abroad. Terry was an assistant professor in the visual arts department at Bemidji State University in Bemidji, Minnesota. Terry relocated to Albuquerque, New Mexico in June of 2018.
This program replaces one by Annie Hooten, which has been postponed.
May 4, 2019 (9am–noon)
White Elephant Sale
Poetry Chapbook Production
Sell your unwanted/excess book arts supplies, art supplies, art books, tools or related items.
We will be helping to sew the poetry chapbooks produced by Escribiente Caligraphy Group and used as a fundraiser for the Open Space Alliance at their annual Poets' Picnic event (May 25, 2018).
June 1, 2019 (9am–noon)
TBA
Please feel free to email or call Mita with any questions,
Mita Saldana, VP in charge of Programs. 505-281-5737
LIBROS Book Lending Library
Remember that we have books and DVDs to borrow at each meeting! If there is a particular book you'd like to borrow, please contact Glo Cantwell before the meeting (see sidebar to the right for details and a downloadable list by title and author).
Meeting Location
LIBROS meets at the Manzano Mesa Center on the 1st Saturday from 9am to 12 noon (unless noted). Note that we are now meeting at the West Social Hall until further notice.
The Center is located at:
501 Elizabeth SE
Albuquerque, NM 87123
505-275-87123
[Google maps]
Past Programs Archive
Updated December 2015
Don't leave home without your bookbinding kit! Remember that many of our meetings are "hands-on" and the best way to learn new techniques is to try them yourself!
Just Do It and Exchanges
This year, LIBROS is offering a number of "Just Do It" special interest groups for members only. Groups will meet outside of the regular monthly LIBROS meetings to give members an opportunity to explore book structures, content, box making, and more. Each group will decide how often and where to meet.
In the past, LIBROS has held monthly exchanges of Matchbox books and ATC card exchanges. In addition, we will add a Mail Art exchange. Members can participate as often as they choose.
Book Lending Library
(Lists Updated 9-2018)
Debbie Finfrock is the current Librarian.
LIBROS has a collection of over 100 books, magazines, collaborative books, CDs, and DVDs for loan! There's a wealth of information just waiting for you to use. We will have a few varied titles at each meeting for you to peruse and/or borrow. The charge will be $1.00 a month (payable upon check out) for ONE month. If you wish to keep your book another month, there will be an additional charge of $1.00, but you must return it by the time that month is over, or 2 months maximum in your hands. This is in consideration of your fellow LIBROS members.
When you peruse the list, you'll be amazed at the breadth of the Bookbinding/Book Arts information available to you! Your rental fees go toward acquisition.