LIBROS Calendar
Please mark your calendars for upcoming programs.
2018–2019 Program
Free Table: Anything art related that you would like to clean out and share with the club is always welcome.
Show and Tell Table: We love to encourage sharing our current works. We have a talented group of people who work in all sorts of mediums that are pulled together in book or box form. Pieces don't have to be finished. You can also bring things in to discuss for help or inspiration. We will start this portion of the meeting at 9:15 am sharp so make sure to show up on time!
Please feel free to email or call Mita with any questions,
Mita Saldana, VP in charge of Programs. 505-281-5737
Saturday, November 3, 2018 (9am–noon)
Text and Image Based Artists' Books Workshop
with Sabra Moore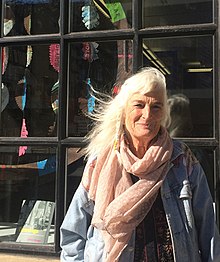 Sabra Moore will conduct a 3-hour workshop exploring the idea of making text and image based artists' books. Moore will first make a presentation of various artist's books, some multi-edition photocopier books and others unique hand-made books in various materials and formats. She will show both her own artists' books and a selection from other artists. Then she will lead a book-making workshop where participants can create a single book using a selection of materials that Moore will provide- paper, metal, wood, stamps, stencils, colored pencils, watercolors, paste, collage materials. Each participant will select a packet from a basket of word packets that Moore will bring. Each packet contains three words and participants will be asked to respond to at least one of those words to create a small book. Moore will demonstrate two or three simple book forms, such as an accordion folded book or a sewn book, and participants will create a book based on those ideas.
Sabra Moore is a Texas-born artist and writer living in Abiquiu, New Mexico. Her work is based on re-interpreting family, social, & natural history through the form of artist's books, sewn & painted "constructed" sculptures & wall works, and installations. She has exhibited extensively in New York City, Canada, Brazil and New Mexico. Her artist's books are in many museum collections, including the Brooklyn Museum and Museum of Modern Art (NYC).
Saturday, December 1, 2018 (9am–noon)
Flag Books with Ginger Rice
Chrismas Party & Gift Exchange
Making flag books, details to come.
plus Collaborative Book – Presentation & Instructions
Saturday, January 5, 2019 (9am–noon)
Zines
Details to come!
plus Collaborative Book – Presentation & Instructions
Saturday, February 2, 2019 (time TBD)
Tour Jim and Alison Abraham's Press
Tour of a working letterpress studio. (Time to be determined)
plus Collaborative Book – Turn in your pages
Saturday, March 2, 2019 (9am–noon)
Collaborative Book Assembly
We will assemble the annual collaborative book during this meeting.
Saturday, April 6, 2019 (9am–noon)
Making Paper Bag Journals
with Annie Hooten
Learn this fun and easy technique for assembling paper bags to make a handy journal that can then be filled with paint, collage, stenciling, writing, etc. Annie will have a completed sample to display but the project will mainly deal with assembling the journal. You may have time after assembling the journal to start on the decorative aspect of it. Small paper bags will be furnished and after the meeting you can then go on to use many different sized bags and let your imagination run wild.
May 4, 2019 (9am–noon)
White Elephant Sale
Poetry Chapbook Production
Sell your unwanted/excess book arts supplies, art supplies, art books, tools or related items.
We will be helping to sew the poetry chapbooks produced by Escribiente Caligraphy Group and used as a fundraiser for the Open Space Alliance at their annual Poets' Picnic event (May 25, 2018).
June 1, 2019 (9am–noon)
TBA
Please feel free to email or call Mita with any questions,
Mita Saldana, VP in charge of Programs. 505-281-5737
LIBROS Book Lending Library
Remember that we have books and DVDs to borrow at each meeting! If there is a particular book you'd like to borrow, please contact Glo Cantwell before the meeting (see sidebar to the right for details and a downloadable list by title and author).
Meeting Location
LIBROS meets at the Manzano Mesa Center on the 1st Saturday from 9am to 12 noon (unless noted). Note that we are now meeting at the West Social Hall until further notice.
The Center is located at:
501 Elizabeth SE
Albuquerque, NM 87123
505-275-87123
[Google maps]
Updated December 2015
Don't leave home without your bookbinding kit! Remember that many of our meetings are "hands-on" and the best way to learn new techniques is to try them yourself!
Just Do It and Exchanges
This year, LIBROS is offering a number of "Just Do It" special interest groups for members only. Groups will meet outside of the regular monthly LIBROS meetings to give members an opportunity to explore book structures, content, box making, and more. Each group will decide how often and where to meet.
In the past, LIBROS has held monthly exchanges of Matchbox books and ATC card exchanges. In addition, we will add a Mail Art exchange. Members can participate as often as they choose.
Book Lending Library
(Lists Updated September 2018)
Debbie Finfrock is the current Librarian.
LIBROS has a collection of over 100 books, magazines, collaborative books, CDs, and DVDs for loan! There's a wealth of information just waiting for you to use. We will have a few varied titles at each meeting for you to peruse and/or borrow. The charge will be $1.00 a month (payable upon check out) for ONE month. If you wish to keep your book another month, there will be an additional charge of $1.00, but you must return it by the time that month is over, or 2 months maximum in your hands. This is in consideration of your fellow LIBROS members.
When you peruse the list, you'll be amazed at the breadth of the Bookbinding/Book Arts information available to you! Your rental fees go toward acquisition.