Welcome to LIBROS
LIBROS is New Mexico's Book Arts Guild offering a variety of inspiration for both traditional and experimental artist's books. We hold regular meetings on the 1st Saturday of the month, as well as annual and special exhibits.
We welcome new members and guests – please see our Calendar page a list of upcoming meetings, or check our our archive of Past Programs.
Saturday, November 5, 2016 (9am–noon)
Back to Basics, with Mita Saldana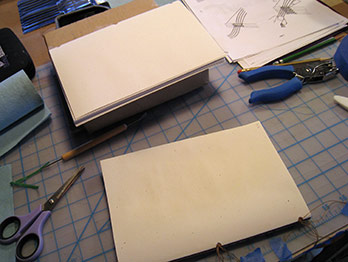 This will be great not only for beginners but it will also be a fantastic review for those who have been making books for awhile. Mita will be reviewing all of your basic information for making books including:
Basic Tools—bonefolders, paper knives, xacto knives, piercing troughs, needles, etc.
Advanced Tools such as a sewing frame, paring knives, the Scharfix
Materials—paper, threads, bookcloth, bookboard, super, mull, crash
Grain in your materials
Sources
Email Mita with any questions about the bookbinding process you may have so she can prepare any demos she may need to do. And if anyone else would like to put in their knowledge about the above, please feel free to join in.
This is a great time to brush up on your knowledge and basic techniques. And if anyone else would like to put in their knowledge about the above, if you have a favorite tool or source, please feel free to join in.
If you forgot to pay dues, it's not too late! $25 for a year's worth of fun, creativity, and beauty! Please bring a check to the meeting, or renew online via Paypal.
If you're a LIBROS member, don't forget to join librosnmbag where you can keep up to date with fellow members. Karen Woolsey is the Moderator of the LIBROS Yahoo Group. To sign up so you can post messages, first open a Yahoo Groups account, then send Karen an email at: (her email is also on the Yahoo Groups home page near the logo).
You may also like to join the following Facebook Groups to learn about upcoming art workshops in Albuquerque:
New Tricks Art Workshops Group

Latest Newsletter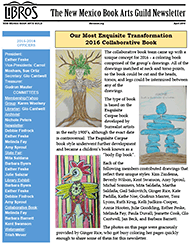 Download the April 2016 Newsletter (1.8MB PDF) for the latest LIBROS news. Back Issues available our our Newsletter page.
Book Lending Library
Read more about the LIBROS Book Lending Library on our Calendar or Newsletter pages.
Updated December 2015
Don't leave home without your bookbinding kit! Remember that many of our meetings are "hands-on" and the best way to learn new techniques is to try them yourself!
Pay by PayPal/Credit Card
LIBROS accepts online payments for Membership through PayPal's secure online payment system. You do NOT need a PayPal account to pay by credit or debit card. Membership renewal is due by September of each year.