Welcome to LIBROS
LIBROS is New Mexico's Book Arts Guild offering a variety of inspiration for both traditional and experimental artist's books. We hold regular meetings on the 1st Saturday of the month, as well as annual and special exhibits.
We welcome new members and guests – please see our Calendar page a full list of upcoming meetings.
Saturday, November 3, 2018 (9am–noon)
Text and Image Based Artists' Books Workshop
with Sabra Moore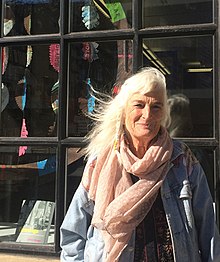 Sabra Moore will conduct a 3-hour workshop exploring the idea of making text and image based artists' books. Moore will first make a presentation of various artist's books, some multi-edition photocopier books and others unique hand-made books in various materials and formats. She will show both her own artists' books and a selection from other artists. Then she will lead a book-making workshop where participants can create a single book using a selection of materials that Moore will provide- paper, metal, wood, stamps, stencils, colored pencils, watercolors, paste, collage materials. Each participant will select a packet from a basket of word packets that Moore will bring. Each packet contains three words and participants will be asked to respond to at least one of those words to create a small book. Moore will demonstrate two or three simple book forms, such as an accordion folded book or a sewn book, and participants will create a book based on those ideas.
Sabra Moore is a Texas-born artist and writer living in Abiquiu, New Mexico. Her work is based on re-interpreting family, social, & natural history through the form of artist's books, sewn & painted "constructed" sculptures & wall works, and installations. She has exhibited extensively in New York City, Canada, Brazil and New Mexico. Her artist's books are in many museum collections, including the Brooklyn Museum and Museum of Modern Art (NYC).
For more details and programs, visit the Calendar page...
If you're a LIBROS member, don't forget to join librosnmbag where you can keep up to date with fellow members. Karen Woolsey is the Moderator of the LIBROS Yahoo Group. To sign up so you can post messages, first open a Yahoo Groups account, then send Karen an email at: (her email is also on the Yahoo Groups home page near the logo).
Follow LIBROS on Facebook: Facebook/LIBROS New Mexico Book Arts Guild
You may also like to join the following Facebook Groups to learn about upcoming art workshops in Albuquerque: Albuquerque Art Workshops

Newsletter
Back Issues available on our Newsletter page.
Book Lending Library
Lists updated September 2018.
Read more about the LIBROS Book Lending Library on our Calendar or Newsletter pages.
Updated December 2015
Don't leave home without your bookbinding kit! Remember that many of our meetings are "hands-on" and the best way to learn new techniques is to try them yourself!
Pay by PayPal/Credit Card
LIBROS accepts online payments for Membership through PayPal's secure online payment system. You do NOT need a PayPal account to pay by credit or debit card. Membership renewal is due by September of each year.