Welcome to LIBROS
LIBROS is New Mexico's Book Arts Guild offering a variety of inspiration for both traditional and experimental artist's books. We hold regular meetings on the 1st Saturday of the month, as well as annual and special exhibits.
We welcome new members and guests – please see our Calendar page a full list of upcoming meetings.
Saturday, April 6, 2019 (9am–noon)
Two Books Structures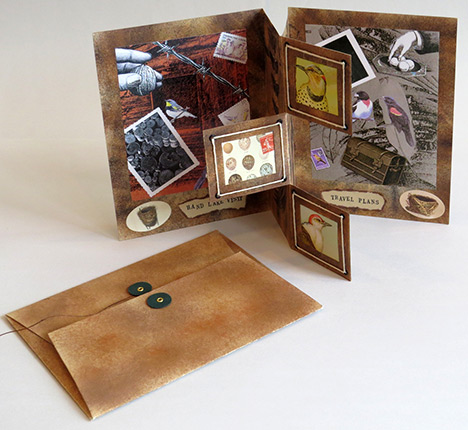 We will be making two books: The first is called the Portable Gallery (above), which is a variation on a Heidi Kyle book. By using the supplied envelope template, this portable gallery book can be mailed. You will be using plain paper for your first attempt. Once you make it, you can use it as a model to make others with decorated paper.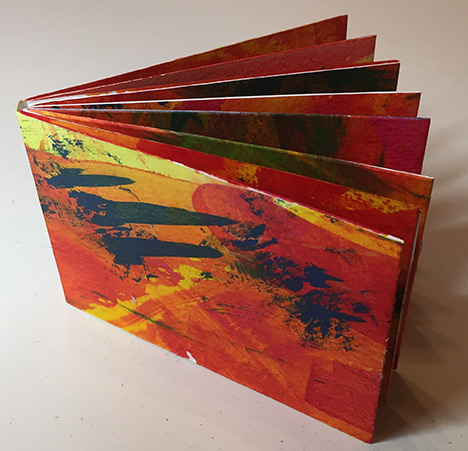 The second book is a folded book with a spine (above). It really does not have a special name; it was taught to Terry by his friend John Arbuckle, an amazing book artist from Seattle. You will paint the paper with acrylic, and Terry will demonstrate a technique using a credit card to spread the paint.
See Materials List to Bring on our Calendar page.
For more programs, visit the Calendar page...
Upcoming Workshop
Making Miniature Books
February 26, 2019, 6–9pm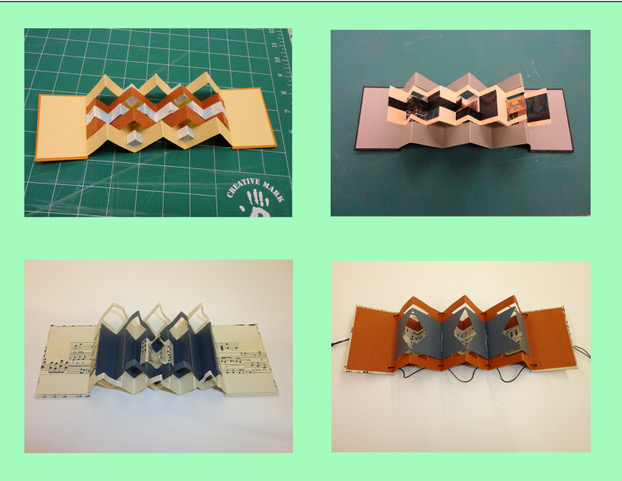 Peter and Donna Thomas will be teaching Making Miniature Books: Simple and Complex Accordion Books on February 26 from 6-9pm. The class is open to all and the fee is $45, but for Libros members the cost is $35.
The class will be held at a new teaching space in town called SW Craft Connection, 3107 Eubank NE, Unit #27. It's in Scottsdale Village. Payment is needed to reserve your place. Please call 505-414-1787 or 956-494-4812 between the hours of 10–6 to sign-up. 
If you have any questions please contact me, Mita Saldana (505) 281-5737  
If you're a LIBROS member, don't forget to join librosnmbag where you can keep up to date with fellow members. Karen Woolsey is the Moderator of the LIBROS Yahoo Group. To sign up so you can post messages, first open a Yahoo Groups account, then send Karen an email at: (her email is also on the Yahoo Groups home page near the logo).
Follow LIBROS on Facebook: Facebook/LIBROS New Mexico Book Arts Guild
You may also like to join the following Facebook Groups to learn about upcoming art workshops in Albuquerque: Albuquerque Art Workshops